Spacewalking astronauts continue work on space station's third robotic arm
European robotic arm joins CanadaArm2 and Japanese arm on the International Space Station
A Russian cosmonaut and European astronaut will work in the vacuum of space for more than six hours Thursday while they continue preparing the International Space Station's newest robotic arm.
Russian cosmonaut and Expedition 67 Commander Oleg Artemyev and European Space Agency astronaut Samantha Cristoforetti began their spacewalk around 10 a.m. CT after exiting the airlock from the Poisk module. Live coverage of the spacewalk will air on NASA.gov and NASA TV.
Both spacewalkers will be wearing Russian Orlan spacesuits for their work on Thursday. Cristoforetti's suit is identifiable by its blue stripes, and Artemyev's suit has red lines. 
HOW THE END OF GRAVITY WOULD MEAN THE END OF THE WORLD
After exiting the airlock, the astronauts will deploy 10 nanosatellites to collect radio electronics data during the spacewalk.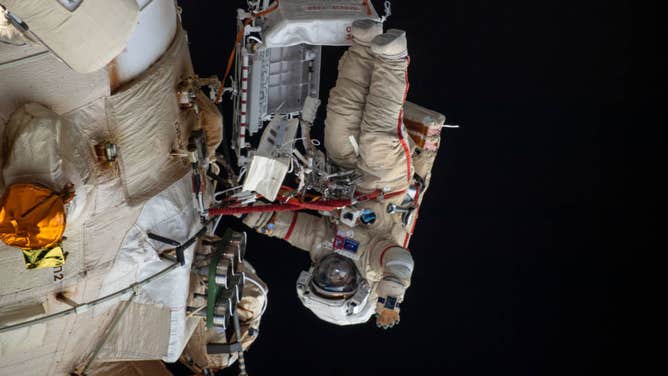 During the spacewalk, the astronauts will install platforms and workstation-adapter hardware mounted to Nauka. The spacewalkers will also relocate the robotic arm's external control panel, replace a window on the arm's camera and extend boom arms from the Russian's Zarya module to the Poisk module, which will support future spacewalks. 
The astronaut's work continues the set-up of the station's newest robotic arm, which launched in July 2021. This is the third spacewalk to prepare the component for operations on Nauka. 
THESE WOMEN ACHIEVED FIRSTS OF SPACEFLIGHT LEADING THE WAY FOR NEXT GENERATION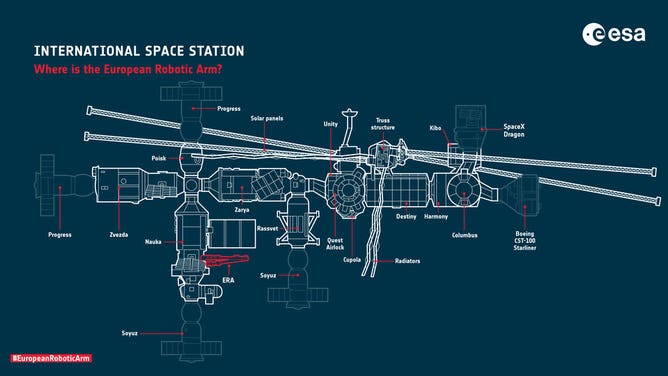 The American-football-field-length ISS already has two functioning robotic arms, the CanadaArm2 and a Japanese-built arm. Both support work outside the space station, general operations and research. The new European Robotic Arm will be used to move payloads outside the Russian segment of the ISS, near the Nauka laboratory. According to the ESA, the two existing arms cannot reach this space station segment.
WHAT A TOXIC INFERNO LIKE VENUS CAN TELL US ABOUT EARTH
The ERA is about 36 feet long and can be controlled by astronauts inside and outside the ISS or programmed to function autonomously. It's made of carbon fiber and aluminum, and it can move about 8 metric tons around the space station
The spacewalk marks the 251st outside the International Space Station. Artemyev has previously completed five spacewalks, and this will be Cristoforetti's first. 
Humans have continuously worked and lived in the laboratory 200 miles above Earth for nearly 22 years.