Kansas zoo's fugitive flamingo seen in Texas after 17 years on the lam
No. 492, known to locals as Pink Floyd, has been on the lam for 17 years after escaping a Kansas zoo during a 2005 storm
WICHITA, Kan. – It might be wise to secure any outdoor furniture or pink flamingos on windy days if you have them.
No. 492, known to locals as Pink Floyd, has been on the lam for 17 years after escaping a Kansas zoo during a 2005 storm. The African greater flamingo has been spotted on the Texas coast for several years.
The Sedgwick County Zoo in Wichita offers indoor space for their flamingos to spend the winter and seek shelter during storms, but it gets a bit complicated in the case of No. 492.
"In order to keep flamingos safely housed and cared for at whatever zoo they call home, standard procedure is to clip a feather on the wings that keeps them from flying," said Jennica King, the zoo's director of strategic communications.
No. 492 took advantage of a windy day before his feather was clipped and flew about 100 yards away from the zoo.
"It was after a couple of days and many unsuccessful retrieval attempts that the storm came and 492 was able to fly south," King said.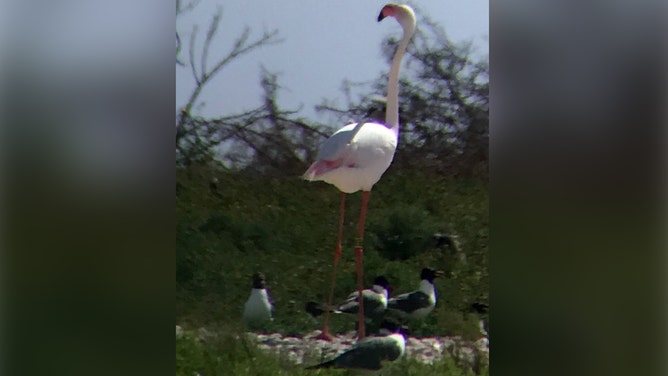 Two flamingos flew away during that storm, and the wind helped them travel far away.
Zoo officials said one flamingo went north and hasn't been spotted since, while No. 492 traveled down to the Gulf Coast and has been living happily there ever since.
"Every couple of years, we hear word of a sighting along the Gulf Coast, but Texas is the main location," King said.
Angler David Foreman captured a video of Pink Floyd on March 10 returning from the "dark side the of moon." It was seen at Rhodes Point in Cox Bay near Port Lavaca.  
Julie Hagen, a spokeswoman for the Coastal Fisheries Division at Texas Parks and Wildlife, said they do not track or monitor the flamingo but thinks of it as a fun annual sighting.
There are six species of flamingos in the world, and greater flamingos are the most widespread. They can live up to 60 years in captivity, but the average lifespan in the wild is about 40 years.