Arizona photographer evades monsoon rains to capture Saturn in beautiful clarity
Photographer Andrew McCarthy moved from Sacramento to Arizona to escape the wildfire smoke and fog, but then the Southwest monsoon season started. He was able to capture beautiful pictures of Saturn after evading the rain.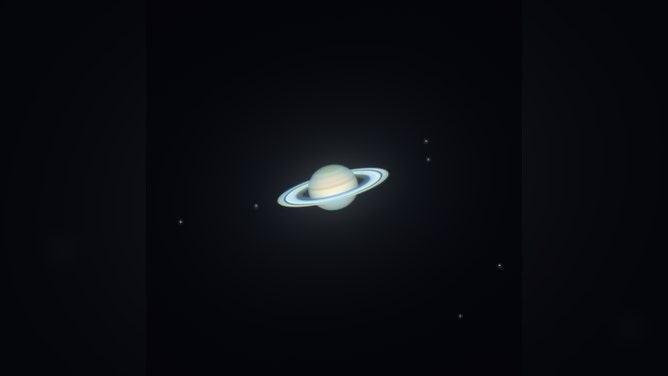 An Arizona-based photographer drove to great lengths in search of the perfect weather needed to capture the planet Saturn on Sunday during opposition.
The irony is that astrophotographer Andrew McCarthy would end up capturing Saturn from California, where he had recently moved to Arizona in search of darker skies for his work. 
"The Southwest has been getting a lot of clouds and rain at night," McCarthy said. "It's, you know, quite frustrating as this photographer that recently moved to Arizona to escape that. I knew monsoons were coming, but apparently, this year is particularly bad."
Below is an example of the booming and cloudy conditions McCarthy has been up against.
In search of relief from the ongoing monsoon season, McCarthy left his home in Arizona to capture some celestial events, including the recent August full moon and Saturn opposition. According to NASA, opposition is the point where Saturn lies directly opposite the Sun from our night sky. It also happens during Saturn's perigee, when the planet is closest to Earth, making it even more prominent and brighter than usual.
After a trip to Sacramento, he started making his way back home, thinking he would find a spot to capture Saturn along the way.
Yuma, Arizona, initially had a promising forecast with calm skies, so that's where McCarthy was en route when the forecast changed.
"With planetary photography, it's very different than a lot of other types of celestial photography because the planets themselves are just so small. The air currents will just basically just fold over the image of Saturn and Jupiter or whatever and completely obscure details," McCarthy explained. "So it's very important that you get the calmest skies possible, and it goes all the way up to the upper atmosphere."

Los Angeles is not known for its clear sky, but on Sunday, the forecast called for five out of five clear skies over downtown. Once again, McCarthy changed his route and headed to LA.
"I found a parking garage with a completely empty upper level," McCarthy said. "I pulled out my telescope and all my stuff and started shooting Saturn."
After a few hours, McCarthy produced an incredibly detailed image of Saturn and its rings. The bright lights around the planet are some of Saturn's moons.
Using a telescope and two cameras, McCarthy used an infrared light filter to capture the shape of the planet and the rings. The image above is actually many images layered to capture the stunning detail of Saturn and its rings.
"It narrows the amount of light that's coming through and passes it down to the infrared, which is going to scatter significantly less than those the shorter wavelengths, like blue. And that allowed me to get really crisp details on the planet, really defined ring edges and, of course, just beautiful, beautiful shape of the planet."
He then used a color camera to pull it all together.
"By blending these images together, I was able to kind of get the best of both worlds where I had to use the infrared, which really sharpened things up, had the individual color filters, which gave me a lot of color depth, which is why I like the cloud bands on scatter has like distinctly different colors," McCarthy said.
Now back in Arizona, McCarthy said he is still excited to make it his new home base.
"In Arizona's defense, the skies have been incredible until that point. So it's that monsoon season," he said. "Overall, this is still the right move for me for what I'm doing because, in Sacramento, it would be like fog in the winter and smoke in the summers. There was never a good time."
Even though the monsoon season has been bad for astrophotography, McCarthy has learned to hone his skills in creating beautiful images of powerful lightning and storms.
McCarthy estimates he seriously began taking an interest in astrophotography ahead of the 2017 Great American Solar Eclipse. During the pandemic, he made the switch and now captures celestial images full time. 
You'll likely see some of his detailed images of the moon because NASA is using them to promote the upcoming Artemis 1 launch, including a 30-foot-banner that has been hanging in front of the Space Launch System rocket. 
More of McCarthy's work can be found on his website where he explains his photography processes in detail.