See a Russian space rocket burn up over Australia skies
The Australian Space Agency confirmed that the fiery streak over Melbourne's skies Monday night was likely remnants from a Russian space rocket.
MELBOURNE, Australia – Was it a meteor or even an alien? Melbourne skywatchers were puzzled after seeing something bright just before midnight on Monday.
Turns out, it was actually a Russian rocket.
"We have determined the flashes of light seen across Melbourne skies overnight were likely the remnants of a Russian Soyuz-2 rocket re-entering the Earth's atmosphere," said the Australian Space Agency in a statement.
Social media posts confirmed that the fiery trail across the sky was not just a visual spectacle but actually shook the city.
"Meteor headed S/E right above the peninsula to make one massive sonic boom on entry to the atmosphere," wrote a man on X, formerly known as Twitter. "Whatever theories may be, and yeah, I felt the earthquake at 2:30ish; it was WILD! That sonic boom was huge!"
SATELLITE, ROCKET BODY MISS COLLISION BY ONLY 20 FEET IN WHAT COULD HAVE BEEN 'WORST CASE SCENARIO'
The space agency said that their Russian counterparts did notify the ASA about the launch of the Soyuz-2 rocket in northeast Russia near Scandinavia. Scientists planned the safe reentry of rocket remnants shed from the craft into the atmosphere into the ocean off the south-east coast of Tasmania.
The rocket delivered a new generation global navigation satellite into orbit, according to Russian officials.
"We will continue to monitor the outcomes of this re-entry with our Government partners," said the ASA's statement.
Rockets raining down on Australia, not unheard of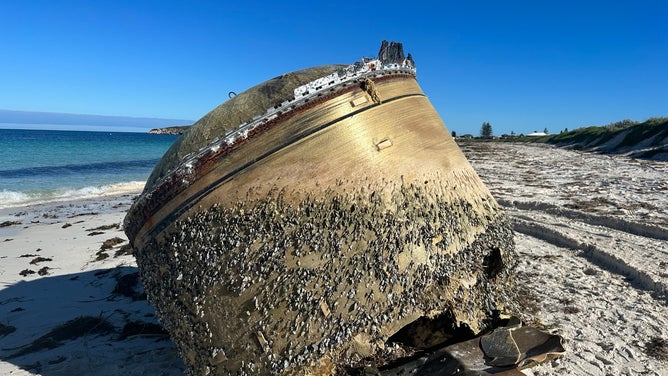 Just last month, a beachgoer discovered a "large unidentified object." The debris led Western Australia police investigators to the ASA.
MYSTERIOUS OBJECT FOUND ALONG AN AUSTRALIAN BEACH THOUGHT TO BE A PIECE OF A SPACE ROCKET
A spokesperson for the Australian Space Agency stated, "The Australian Space Agency has determined the object is most likely a solid rocket motor casing. The Agency is continuing the process of determining the type of rocket and its origin."
Australia's space agency still hasn't determined what country's rocket was responsible for the debris, and there have been no associated reports of debris spotted raining down through the atmosphere.
Space crowded with debris
Space debris falling through Earth's atmosphere is an increasingly common problem, with more than 40 space agencies now operating worldwide, according to the United Nations.
China has come under scrutiny during recent years for not publicly sharing trajectory information on uncontrolled reentries of space debris.
NASA Administrator Bill Nelson previously stated the country was responsible for some of the largest pieces of space debris over the last three decades.
'HERE WE GO AGAIN:' CHINESE ROCKET BOOSTER CRASHES BACK TO EARTH OVER PACIFIC OCEAN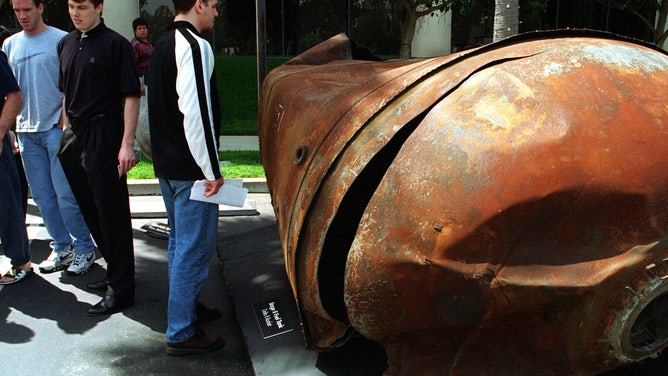 WHY A SPACECRAFT CLAW WAS BUILT TO CLEAN UP SPACE JUNK
Out-of-fuel satellites soar through space at 17,500 mph threatening manned spacecraft and active satellites. Spent rocket stages, debris from satellite collisions, fragments from countries shooting down satellites and even chips of paint off a rocket can damage a spacecraft.
"As our reliance on space technologies increases rapidly … we are committed to leading efforts to make space more sustainable," Paul Bate, Chief Executive of the U.K. Space Agency, said in a news release. "With 1,700 satellites launched last year alone, the need to safeguard the space environment for the benefit of everyone on Earth has never been more pressing." 
In 2009, an abandoned Russian spacecraft hit a U.S. Irridium communication satellite and not only destroyed it, but the collision created 2,300 more large pieces of space junk.
Space debris removal and other in-orbit services, like satellite retrieval and repair, are estimated to be a cumulative $14.3 billion market by 2031, according to analysts.