'Unseasonable' storms in Australia delay NASA launch, prompt evacuations and water rescues
Heavy rains trigger hundreds of rescue operations around Sydney, Australia including a massive disabled ship. The same storms caused a several day delay of the launch of a NASA rocket Down Under.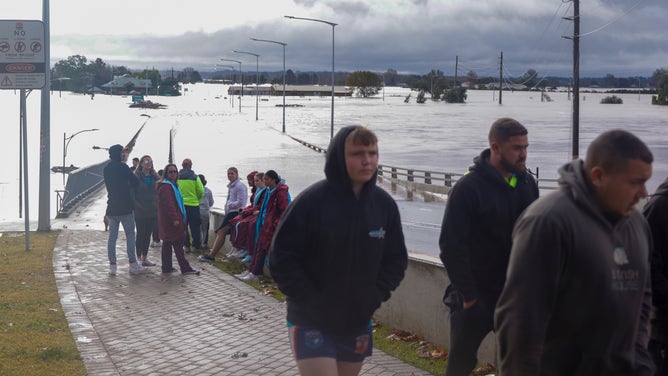 Violent storms have been plaguing northern and eastern Australia with major flooding and generated enough rain to delay the second-ever NASA launch planned from the country's commercial spaceport. 
Flooding in southeastern Australia, including New South Wales caused officials to issue 85,000 evacuation orders and warnings. Off the coast, swells three stories tall stranded a cargo ship until helicopter crews, along with tugs, were able to maneuver the 554-long ship further off coast until the weather improved.
Wind, rain scrub NASA launch from Australia 
Strong winds on July 2 forced the only commercially owned and run, multi-user equatorial launch site in the world to reschedule the launch of a NASA sounding rocket carrying the SISTINE mission. The Arnhem Space Centre is on the north coast of the Northern Territory.
WATCH LIGHTNING STRIKE NEAR A MASSIVE SPACE ROCKET IN FLORIDA
Equatorial Launch Australia said inclement weather impacting northern and eastern Australia, including "heavy unseasonal rain and wind," caused the delay. 
"We went through the countdown with every intent to launch, but the consistent winds were outside the parameters that we considered safe. On that basis, we made the decision to delay the launch tonight," Equatorial Launch Australia CEO Michael Jones said in a statement 
In June, NASA launched the first mission from Australia and has two more planned for the first half of July. The small sounding rockets have instruments that will study the ultraviolet radiation of two stars of planetary systems-- Alpha Centauri A and B-- beyond our own, known as exoplanets. There are more than 5,000 exoplanets that have been confirmed throughout the galaxy.
Ultimately, the instruments called DEUCE and SISTINE will help astronomers determine if planets orbiting these suns or stars could host life.
"Ultraviolet radiation from the Sun played a role in how Mars lost its atmosphere and how Venus turned into a dry, barren landscape," DEUCE principal investigator and astronomer Brian Fleming said in a news release. "Understanding ultraviolet radiation is extremely important to understanding what makes a planet habitable."
Equatorial Launch Australia said the next available launch attempt is Wednesday at 8 p.m. ACST.
Heavy rains in New South Wales prompting water rescues
Heavy rains started falling on July 2 across the Eastern Australian coastal state. At the Waronora Dam, south of Sydney, Australia, 23 inches of rain fell – 10.6 inches of it on July 3 alone. On average the site only sees 2.6 inches for the entire month of July. During the first week of this month, the dam racked up over half of the rain they usually see in a year. 
"Some locations across New South Wales have seen 800 millimeters over the last four days and many over 500," said Jane Golding from the Bureau of Meteorology about the 31 plus inches of rain during a news conference. "Flood risk continues, even if the rain has eased, and we're just seeing showers at the moment, it'll take a bit of time for the water to make its way out to sea so, major flood warnings [are] likely to continue for the next couple of days."
7 FACTS YOU SHOULD KNOW ABOUT FLASH FLOODS
So far, officials reported over 6,000 requests for rescue since the flooding began in the state. Over 1,000 volunteers are aiding more than 47 rescue teams. They knocked on 8,000 doors overnight into Wednesday morning. Emergency managers placed more than 85,000 residents under mandatory evacuations and evacuation warnings.
"It has been a difficult four days … We're not quite through it yet. We've got some major flooding still on a number of river systems," said Steph Cooke, Minister for Emergency Services at a press conference. "The landscape is very saturated, our dams are full, our river channels are also full. Our streams and trains continue to contribute to those river systems that are already full. And as a result, if we do get a sudden downpour in a certain location, it can cause flash flooding and river rises to occur very quickly."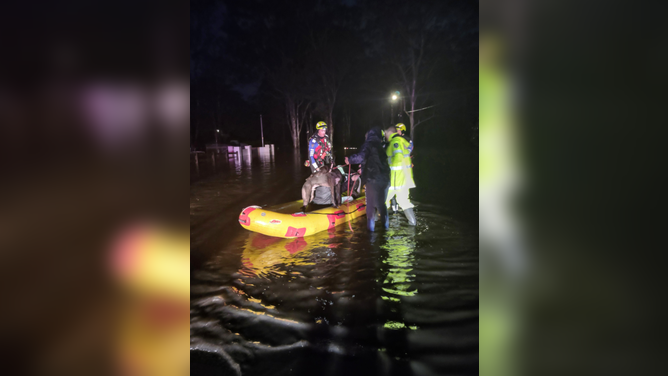 The worst flooding since 1988 comes on the heels of a record dry June for New South Wales, the territory that includes Sydney. It saw 58% below normal rainfall and the driest June since 1986. It was also the 7th driest on record since 1900.
36-foot swells off the coast
Winds whipped up 36-foot swells off the New South Wales Coast just southwest of Sydney. A massive bulk carrier lost power and waves and wind pushed the ship dangerously close to the shallow shore.
Helicopter crews along with tugs, maneuvered the 554-long ship further off the coast until the weather improved. Cooke reported that the vessel is now safe in Port Botany.
The Bureau of Meteorology's Golding said that winds are slowly tapering off, but heavy rains will continue through the week. The Premier approved a Natural Disaster Declaration for 23 areas of the most populated state in the country.
CLICK HERE TO GET THE FOX WEATHER UPDATE PODCAST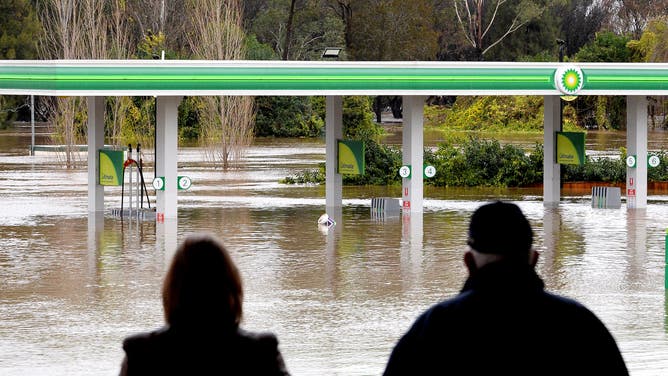 More flooding ahead
This is the fourth significant flood event for the region in the past two years. 
FAMILIES HUDDLED ON ROOFTOPS TO ESCAPE AUSTRALIAN FLOODING
The wet weather pattern could continue through the Southern Hemisphere's winter and spring months, July to October. A La Niña weather pattern is setting up for the third year in a row.
LA NINA LIKELY TO CLING TO LIFE, GIVING NUDGE TO BUSY HURRICANE SEASON AND WESTERN DROUGHT IN US
"Sea surface temperatures are currently warmer than average around much of the Australian coastline, particularly to the north and west," wrote the Bureau of Meteorology in their La Niña Watch. "This pattern is likely to increase the chance of above average winter–spring rainfall for Australia."
FOX Weather meteorologist Ian Oliver reported that a La Niña pattern generally means a wetter than average season for Australia.