Rocket Lab inches closer to catching rockets with a helicopter
You read that right. Rocket Lab plans to catch rocket boosters in mid-air.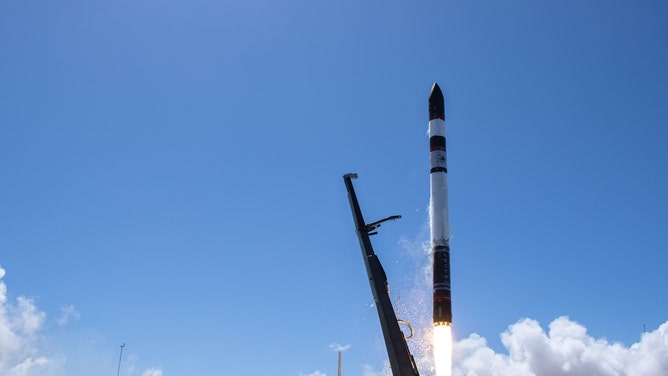 Commercial launch company Rocket Lab took another step this week toward its goal of recovering its rocket boosters using a helicopter.
After years of saying he wouldn't try to reuse the Electron rockets, CEO Peter Beck announced in August 2019 Rocket Lab would work to become among the reusable launch companies.
Compared to SpaceX, Elon Musk's company that launches and lands its Falcon 9 rocket boosters on land and on a droneship at sea, Rocket Lab plans to take a very different approach with its recovery strategy.
After Electron's second stage separates, the first stage will return to Earth and deploy a parachute to slow it down. A helicopter will then grab the parachute and carry the booster to a recovery boat. Rocket Lab has yet to catch a rocket this way but continues to test different stages of this recovery method.
See a video rendering of what it will look like below.
Beck explained in a 2019 announcement the reason for this approach is that Electron is a small launch vehicle. According to Beck, using a propulsion system like what SpaceX does with its automated booster landings would require a larger rocket.
"We're not in the business of building medium-size launch vehicles. We're in the business of building small launch vehicles for dedicated customers to get on orbit frequently," Beck said.
Although Beck later "ate his hat" after revealing earlier this year that Rocket Lab is building Neutron, "a bigger rocket," capable of launching humans.

He said catching the booster with a helicopter part is actually "really really easy" compared to the other obstacles they must overcome.
For a successful recovery, the booster must reduce its speed from 8.5 times the speed of sound and get down to essentially zero in about 70 seconds.
Wednesday's launch from New Zealand marked the third recovery test in the company's progression toward catching rockets and re-flying the hardware.
Most recently, in May, Rocket Lab successfully recovered one of its boosters after an ocean splashdown. Parachutes helped the rocket land in the water, and Rocket Lab's recovery team scooped up the hardware. A similar recovery mission happened in November 2020. 

Wednesday's launch called "Love At First Insight" delivered two BlackSky Earth-imaging satellites to orbit. Rocket Lab is a California-based company with two launch sites, one on New Zealand's Mahia Peninsula and another in Wallops Flight Facility in Virginia.
Ahead of liftoff, Rocket Lab teams were keeping a close on the weather because a helicopter was waiting offshore to recover the booster post-splashdown. It marked the first time a helicopter would fly in formation with the rocket booster.
Beck celebrated the first helicopter recovery operation post-launch.
"Today's launch was a masterclass from an incredible team of engineers on how to successfully deliver customers' satellites to space while at the same time demonstrating cutting-edge operations and innovation that pushes the space industry forward on small rocket reusability," he said in a statement. "This is our third successful proof of concept recovery mission and further cements Electron as the leading launch vehicle for the small satellite market."
Next year, Rocket Lab plans to put it all together and catch Electron in the air using a helicopter.