Rocket booster crashing into the moon will only be the latest human-made crater
Spoiler alert: The moon will be fine.
The rocket booster destined to crash into the moon on Friday won't be the first, or even the last, space hardware to leave a mark on the lunar surface.
For years, the booster bound for the moon was believed to be a SpaceX Falcon 9 rocket booster that launched the DSCOVR mission for NASA in 2015. However, Bill Gray, the astronomer behind Project Pluto, a program that tracks objects in space near Earth, recently issued a correction saying that the booster is more likely from China's Chang'e 5-T1 mission.
Regardless of its country of origin, astronomers agree the booster will smack into the far side of the moon on Friday in the Hertzsprung crater, essentially making a crater within a cavity.
SEEN FROM SPACE: HOW THE GOES-T LAUNCH LOOKED FROM 22,300 MILES AWAY
Before anyone gets frazzled by this crash, there is something to note: The moon is covered in craters created by human-made objects, and many were intentional.
Most of these intentional things that went "boom" were for science.
During the Apollo missions, astronauts put seismometers on the moon to learn about the internal structure. During the Apollo 14, 16 and 17 missions, astronauts detonated mortars and other small explosives to measure the seismic activity. Those explosives were detonated using long charges or by radio control after the astronauts left the lunar surface.
Another example of crashes for science is NASA's Lunar Crater Observation and Sensing Satellite (LCROSS) mission.
When NASA launched the Lunar Reconnaissance Orbiter (LRO) and LCROSS in 2009, the booster was intentionally crashed into the lunar surface so LCROSS could study the debris cloud. The satellite would also later meet its demise by crashing into the moon.
RUSSIAN INVASION OF UKRAINE PUTS US-SPACE COLLABORATION IN QUESTION
Data from LCROSS and the booster crash provided NASA researchers evidence that water --and lots of it – exists on the moon. This is important for NASA's new moon program Artemis. Astronauts will need to mine resources like water to live long-term on the moon. It can also be used to make fuel. 
Other countries have also created new craters on the moon.
Israel's Beresheet lander failed to touch down in 2019 and crash-landed, creating another impact crater.
WHEN NASA INTENTIONALLY CRASHED A ROCKET INTO THE MOON
The moon is a graveyard for Apollo-era artifacts, failed spacecraft landings and rocket parts.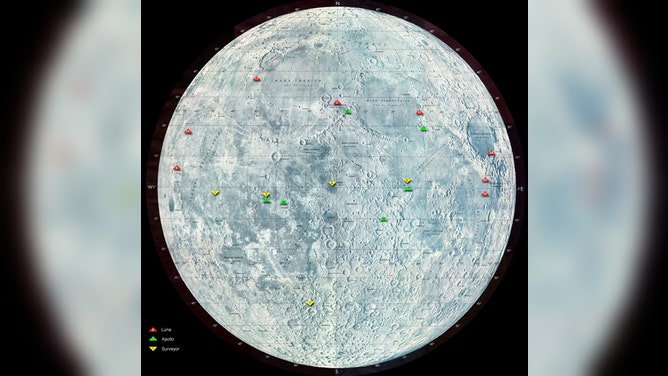 NASA's LRO spacecraft has created detailed lunar surface maps. In the one above, you can see all the NASA Apollo and Surveyor missions and Russian spacecraft.
Should you worry about the booster hitting the moon? Gray says "not at all," but the attention around this particular piece of space junk is an excellent opportunity to address the more significant issue of space trash.