'Ring of fire' solar eclipse to dazzle US skies in 2 years
The ring-shaped eclipse will be visible in the United States within a roughly 125-mile-wide path before it passes into Mexico, Central America, and South America

REEDSPORT, Ore. -- If you missed the annular solar eclipse 11 years ago in the western United States, mark your calendar now.
On Oct. 14, 2023, the New Moon will move in front of the Sun, allowing spectators from Oregon to Texas to see a thin "ring of fire." 
The ring-shaped eclipse will be visible within a roughly 125-mile-wide path before it passes into Mexico, Central America, and South America, the American Astronomical Society states. Anyone living in North American outside the path should see a partial solar eclipse if the weather cooperates.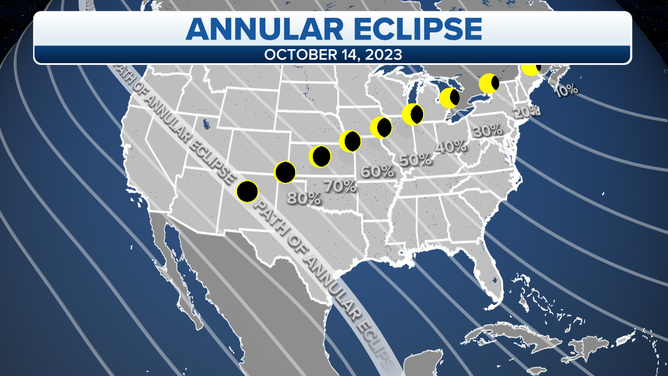 The event is known as "the ring of fire" because, during an annular eclipse, the moon is further away than during a total eclipse. This means the edge of the Sun peaks out around the moon, creating a glowing ring. During a total eclipse, the Sun is fully covered by the moon.
According to GreatAmericanEclipse.com, the annular solar eclipse first touches the United States at 9:13 a.m. Pacific time at Reedsport, Oregon, and lasts roughly 4 minutes and 29 seconds. 
Once the event passes over the Four Corners region, prime viewing locations will be at a handful of national parks and national monuments.
It will then cross Texas around Midland, Odessa, San Antonio, and Corpus Christi and leaves the U.S. at Padre Island at 12:03 p.m. Central time.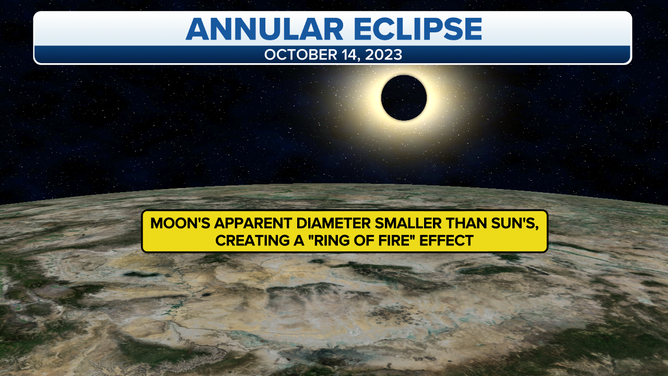 The maximum duration of annularity in Texas is 4 minutes and 53 seconds, according to GreatAmericanEclipse.com.
The last total solar eclipse in the U.S. was in 2017 during the Great American Eclipse. Totality was visible as the eclipse crossed the country, moving from Oregon to South Carolina.  
In 2024, another total solar eclipse will happen in the U.S. This time the Sun will take the opposite path from Texas to the upper northeast part of the country. Both in 2017 and 2024, parts of the Midwest are along the path of totality. 
It's always essential to wear protective glasses when viewing any eclipse. During an annular or partial eclipse, you'll need to wear solar eclipse glasses at all times. For a total solar eclipse, you can take the glasses off but only during totality.