Australian woman uncovers highly venomous snake slithering in her bed
An Australian snake whisperer saved a woman from many nightmares after recovering one of the world's most venomous snakes from her bed.
MAROON, Queensland – "Check the bed carefully tonight."
Those words were from an Australian snake whisperer who saved a woman from many nightmares after recovering one of the world's most venomous snakes from her mattress. 
"It's not the first time I've encountered an eastern brown, but definitely a first time for being in the bed," said professional snake catcher Zachary Richards, owner of Zachery's Snake and Reptile Relocation in Boonah.
Richards said a woman contacted him on Monday who was seeking help on Facebook, looking for a local snake catcher that could come and get the eastern brown snake that slithered into her bedroom sheets.
WHERE DO SNAKES GO IN THE WINTER?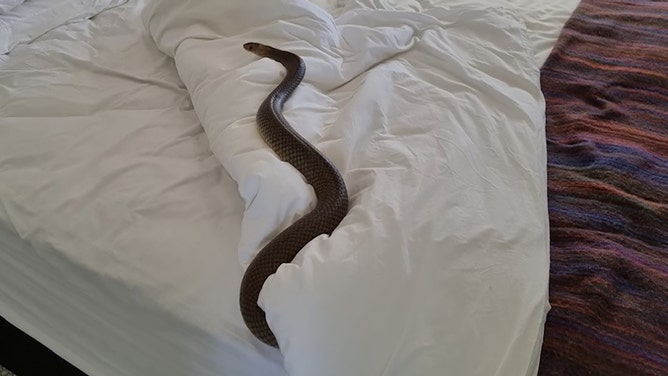 "She was waiting outside for me when I got there," Richards told FOX Weather. "She had a towel underneath the door."
Richards pulled the towel away and gave the door a push as he stepped back. 
"It was just sitting on the bed, just quite happy to sit there and watch me," he laughed. "I've seen other snakes, like a copper python and stuff like that in the bed, but not generally a poisonous one."
PHOTO CAPTURES MOMENT RARE FLORIDA PINE SNAKE DEVOURS COTTONTAIL RABBIT
Richards said temperatures were warm outside at the time and thinks the snake came inside to take shelter from the heat.
"(It) just decided that while it was in there, it might as well have a bit of a snooze in the bed," he added.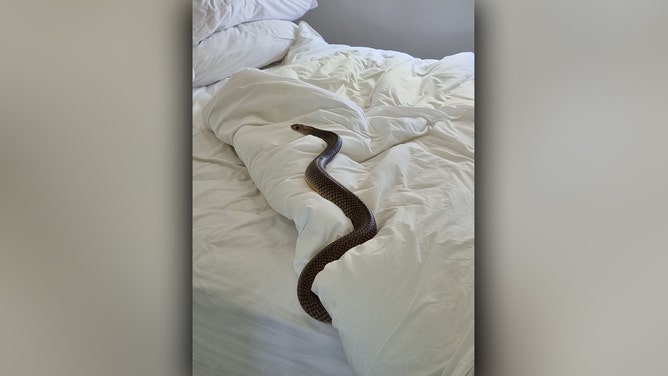 The eastern brown snake is considered highly venomous and extremely dangerous to humans and pets.  
According to the Department of Environment and Science in Queensland, the species is most active during the day and feed on frogs, birds, mammals and reptiles. If provoked, the snake will bite. They can grow to an average length of nearly 5 feet.
AMERICA'S RAREST SNAKE FOUND CHOKED TO DEATH ON GIANT CENTIPEDE IN FLORIDA
Richards said if you ever come across an eastern brown, leave it alone. 
"If it's in a bedroom like that, shut the door and put a towel underneath, so it can't get out," he said. "Call a professional and wait for them to get there and pick it up."