Long Beach goes green: America's second-busiest seaport cleaning up its act
More ships and trucks idling at the ports meant more air pollution in an area that's already known for bad air quality
LONG BEACH, Calif. -- Walk into any store, and a lot of what you see on the shelves likely came from thousands of miles away and through one of America's ports. 
But the business of getting those products off of the ships hasn't always been great for the air quality. 
Southern California is home to the two largest ports in the nation. Now, the ports of Los Angeles and Long Beach are trying to make the air a little cleaner through a new initiative.
Both these ports experienced massive backups of ships and trucks last year, making this new push even more important.
More ships and trucks idling at the ports meant more air pollution in an area that's already known for bad air quality. The ports are now launching a fee aimed at promoting clean air trucks.
Starting April 1, the two ports will be charging $10 per 20 feet of length for every loaded container truck entering or leaving the terminals. Exceptions will be made for zero-emissions trucks and for containers hauled by low-nitrogen emitting trucks.
"This is a moment that has been years in the making. This is a moment that has been caused by the lung diseases by the communities around the port for a long time. Of the struggles of our planet to deal with climate change," Los Angeles Mayor Eric Garcetti said.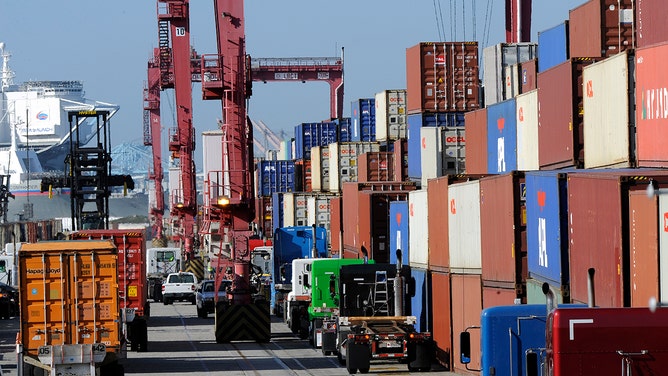 The program is expected to generate up to $90 million from the two ports in its first year. The money will be used to provide vouchers for companies to purchase zero-emissions trucks. It could also provide funds to help container shippers install zero-emissions charging and fueling infrastructure.
This comes as the Port of Long Beach has made big changes to try to clean up the air. They did this in large part by switching from diesel power to electricity.
The massive cranes used to lift containers off ships and onto the docks are now all-electric. They also now use automated electric container movers which have zero emissions and are more efficient than traditional trucks.
In addition, they've also made some changes to the way the ships operate that make things cleaner.
Vessels are required to reduce their speed to cut down on emissions and are instructed to tap into shore power instead of belching out fumes while idling.