'Disturbing' amount of plastics, debris found inside dead whale in Hawaii
Marine experts believe at least 14 million tons of plastic ends up in the oceans every year. Plastics are the most common type of debris and can be ingested or lead to entanglements.
HONOLULU – A massive sperm whale that washed ashore a Kauai beach in January had enough debris and plastic inside its stomach that researchers believe the objects might have caused internal blockage and led to the ultimate demise of the adult mammal.
Researchers with the University of Hawaii released details Thursday on their 15-hour examination of the 56-foot-long whale's carcass.
Inside its stomach, researchers reported finding everything from fishing gear to plastic bags – an amount concerning to any biologist.
"In addition to squid beaks, fish skeletons and other prey remains, we found at least six hagfish traps, and we also found significant amounts of at least seven types of fishing net, at least two types of plastic bags, a light protector, fishing line and a float from a net. We did find a number of things in the stomach of the sperm whale that may have contributed to its death and are certainly disturbing," said Dr. Kristi West,  the director of the University of Hawaii's Health and Stranding Lab.
SPECTATORS GATHER AS KILLER WHALE WASHES ASHORE FLORIDA COAST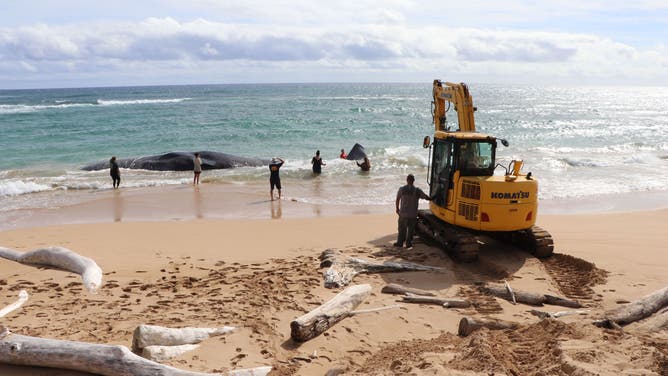 Of the organs examined, biologists reported finding no irregularities except for in its gastrointestinal tract, where clear blockage was observed.
"The presence of undigested fish and squid lends further evidence of a blockage. This is the first sperm whale in Hawaiian waters where we have seen this kind of ingestion of discarded fishing gear and nets," said West.
Environmental groups have long warned about the increased risks plastics and other contaminants pose to marine life, and debris in the Pacific has even earned the nickname of the "Pacific Garbage Patch" due to its vast size.
Marine experts believe at least 14 million tons of plastic ends up in the oceans every year, with more than a million animals suffering the same fate as the sperm whale along the Hawaiian coast.
CALLS GROW FOR FEDERAL PROBE INTO WHALE DEATHS ALONG NORTHEAST BEACHES

"I think what we can learn from this is at an absolute minimum, let's prevent any more gear, plastic bags and other items from getting into the system and certainly remove anything that we see before it has the opportunity to result in this kind of destruction for an individual animal," said West. "We are only able to examine a small number of our dolphins and whales that die in our waters, and we think that each individual we are able to examine represents as many as 20 other animals, who are likely to ultimately die from these types of impacts."
The public is encouraged to report distressed, injured or dead marine mammals to the National Oceanic and Atmospheric Administration to help ensure researchers are aware of threats and identify unnatural deaths. 
Report a stranded or injured marine animal at: https://www.fisheries.noaa.gov/report