It's launch day: NOAA's new weather satellite, Atlas V ready for liftoff
GOES-T liftoff on track for 4:38 p.m. Tuesday
CAPE CANAVERAL SPACE FORCE STATION, Fla. – A thick fog surrounded the hangar Monday morning as United Launch Alliance teams prepared to move the Atlas V to the launchpad, but soon the sun came out, revealing the 196-foot-tall rocket and the bright logo for NOAA's new weather satellite GOES-T inside the rocket nose cone.
The 1,800-foot journey from the hangar to Space Launch Complex 41 took about two hours as the rocket moved at a speed of about 2.5 mph toward the pad. By mid-morning, Atlas V had arrived at its final destination on Earth ahead of the Tuesday liftoff. The Atlas V launch is scheduled for March 1 during a two-hour window opening at 4:38 p.m.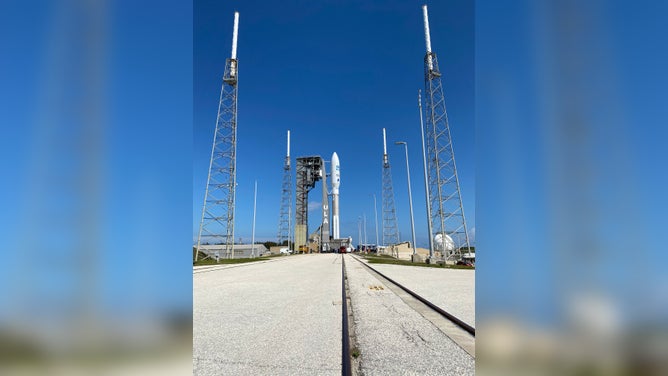 The GOES-T satellite is the third in upgraded spacecraft part of the Geostationary Operational Environmental Satellites (GOES) program. After it arrives in space, the satellite will be renamed GOES-18, monitoring the weather for the western U.S., Alaska, Hawaii, Mexico, Central America and the Pacific Ocean. 
46 YEARS OF GOES: HOW A HISTORY OF ACHIEVEMENTS HAS CHANGED WEATHER FORECASTING
The satellite's suite instruments will track wildfires and provide warnings for severe weather. It will also improve space weather forecasting, giving signs of incoming geomagnetic storms.
A slow rollout to the launchpad was one of the final stages for teams across ULA, NASA and Space Launch Delta 45 will take to ensure the next GOES satellite makes it to its last home in space more than 22,000 miles above Earth.
"When ULA got the contract, we hit the ground running for two years, working with our customer team and understanding all of their unique requirements to make the mission work," ULA integration engineer Glenn Davis said. "Then we go through all the planning on getting all their operations from basically spacecraft arrival to the Cape to working with us to get them encapsulated transported here to the [Vehicle Integration Facility], to put on the rocket and rolled out here for launch." 
ULA was selected by NASA's Launch Services Program to launch the new weather satellite. NASA engineers continue to follow the mission for every step, even long after the rocket has launched. NASA LSP integration engineer Joan Misner explained getting a spacecraft into orbit is a little bit like a ride at a theme park.
"You want to make sure that you stay on that roller coaster that you don't fall off. So we kind of do the same thing with the spacecraft," Misner said. "We just want to make sure that once it's going against gravity, once it's going against all of the elements that spacecraft stays intact, there's nothing that goes haywire, and it gets to its orbit, and it separates from that payload adapter. So lots of testing, lots of requirements."
The real-time data from GOES-T will help meteorologists around the country forecast hurricanes, better predict tornadoes and provide advance warnings for wildfires. The data will also be used at the 45th Weather Squadron, the team that helps ensure the weather conditions will support a safe liftoff and successful mission.
HOW NOAA'S NEW GOES SPACECRAFT WILL IMPROVE SPACE WEATHER FORECASTING
Ahead of a launch, weather balloons are released to collect upper-level wind data, dew points, temperatures and relative humidity provided to ULA or other launch providers and forecasters with the 45th. This helps teams determine if all launch commit criteria will be met for a safe rocket launch.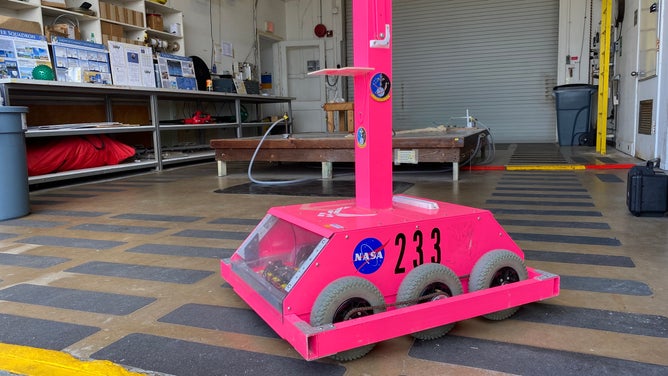 When storms around Florida's Space Coast make it too risky for people to be outside releasing the balloons, a small pink robot called "Pinky" is remote controlled to release the helium-filled balloons. The weather bot was designed and painted by a local high school.
Currently, the 45th Weather Squadron gives the liftoff window an 70% chance of good weather for launch. The primary concern will be possible cumulus cloud and liftoff wind violations.
According to 45th Weather Squadron Flight Commander Capt. Gregg McCambley, lightning detection is a crucial part of forecasting for rocket launches.
The launchpads at Cape Canaveral Space Force Station are just miles from the lightning capital of the U.S., and rockets can trigger lightning if it flies through a strong atmospheric electric field or near specific clouds.
"The difference with this lightning detection is not only does it do cloud ground, it also does cloud to cloud," explained McCambley. "As we have the rocket launches going up, that's a very important thing, obviously, as we have launches going well in the atmosphere."
Almost 50% of launch scrubs are weather-related and 22% of all launches are affected by weather.
Still, McCambley said over the years, those numbers have been coming down as launch providers like ULA and SpaceX look at the forecast and decide ahead of time instead of getting into the countdown if the weather isn't favorable.
"I think that's an indication that forecasting is getting better," he said. "Clients understand that. So rather than risking with the scrub, they try to delay their launch to another day and reschedule."
Launch officers inside the 45th Weather Squadron said they are looking forward to the new data GOES-T will provide.
On Monday, launch officers inside the 45th Weather Squadron said they are looking forward to the new data GOES-T will provide.