NASA's Artemis moon rocket back in the hangar for repairs
NASA making repairs to SLS before attempting wet dress rehearsal again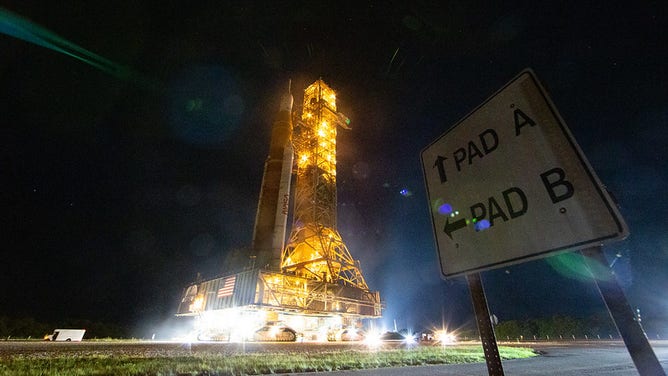 KENNEDY SPACE CENTER, Fla. – NASA's Artemis moon rocket is back in Kennedy Space Center's historic rocket hangar after a series of technical issues during four attempts to test the vehicle at the launchpad.
NASA's Space Launch System rocket and the Orion spacecraft first migrated from the Vehicle Assembly Building to launchpad 39B on March 17. The journey took nearly 11 hours for the one mph roll to the pad.
However, after four attempts to conduct a wet dress rehearsal were halted because of technical problems, NASA managers decided to roll the 322-foot rocket back into the VAB to resolve several issues. 
The Artemis-1 rocket rolled back into the VAB Tuesday morning after a 10-hour journey.
The primary goal of the wet dress rehearsal is loading 700,000 gallons of super-cold fuel into the rocket and running through the countdown, similar to an actual launch. Teams were never able to fully fuel the rocket because of an issue with a 3-inch helium valve, and on the most recent attempt, a liquid hydrogen leak halted the test.
NASA Associate Administrator Bob Cabana said after the problems discovered on the launchpad are addressed, teams will conduct a new wet dress rehearsal. It's still too early to tell when that will be.

WATCH LIGHTNING STRIKE NEAR A MASSIVE SPACE ROCKET IN FLORIDA
"We still have a lot to do with wet dress rehearsal," Cabana said. "The team is evaluating options. We'll make a decision here in the not too distant future of what the best path forward is."
Cabana said an August launch timeframe is still possible.
The Artemis-1 mission will be the first launch of the SLS and Orion. The uncrewed spacecraft will orbit the moon and return to Earth before an Artemis-2 flight with astronauts around the moon.
Cabana, a former KSC director and NASA astronaut, said it's a big rocket with lots of new equipment and just like the shuttle program, scheduling slips happen. 
"We're going to get it right, and we'll launch and get that test flight out of the way," Cabana said. "I can't wait to see that big rocket liftoff."