NASA to rollout Artemis rocket to launchpad for critical test in coming weeks
Artemis-1 launch from Florida now targeted for late May or June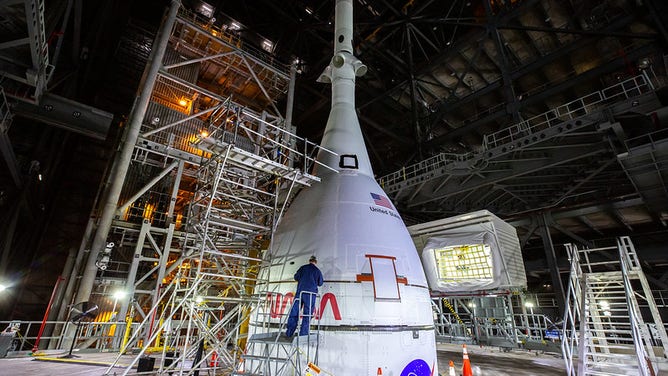 Kennedy Space Center, Fla. – NASA managers say they are preparing to roll out the agency's next-generation moon rocket to the launchpad for the first time after completing a final test inside the Vehicle Assembly Building at Kennedy Space Center.
On Thursday, NASA managers provided an update on the timeline for the first launch of the Space Launch System known as the Artemis-1 rocket. This will be the maiden voyage for NASA's moon rocket, sending the unpiloted Orion spacecraft around the moon and back. 
Teams at KSC had been preparing to roll the 322-foot-tall rocket out of the VAB sometime in February to conduct a wet dress rehearsal at the launchpad. However, that shifted to mid-March due to an issue discovered with one of the rocket engine controllers. 
Tom Whitmeyer, NASA deputy associate administrator for exploration systems development, said work has gone very well completing the steps needed to get the rocket ready for rollout.
The last major test before heading out to the pad was the flight termination system test, or FTS. Whitmeyer said that was completed Wednesday and data is still being analyzed.
LOOK FORWARD TO THESE 2022 MILESTONES IN SPACE EXPLORATION
"We're excited about that for two reasons. One, it is the last test that we need to do, and the hardware has performed very well," he explained. "And so we're very happy with that. And the second thing is that by completing their test, that gives us the opportunity to close off the vehicle and prepare for a roll."
Teams will begin rolling out the SLS after 6 p.m. on March 17. During the space shuttle program rollout from the VAB usually started around midnight but KSC Exploration Ground System program manager Mike Bolger said NASA adjusted that to make it a little easier on the teams working the rollout and their families. 
The crawler transporter will have to move the 17-million-pound SLS over 4-miles to the KSC launchpad 39B. It will take about 11 hours, moving from 1 mph to 2.8 mph with a cruising speed of 2.2 mph.
A MILLENNIAL BILLIONAIRE WANTS TO REPLACE NASA'S 50-YEAR-OLD SPACESUITS
"The next time when we roll when we actually roll out for launch we'll refer to that 4-mile trip of the first four miles and NASA's return to the moon," Bolger said.
After reaching launchpad 39B the wet dress rehearsal will be conducted which is when launch control runs through every step of the countdown, including fueling the rocket.
With the most recent delay, NASA is now reviewing launch opportunities in May and June.
Whitmeyer said the launch date will be set after the wet dress rehearsal is complete.