NASA's Webb telescope detects carbon dioxide on one of Jupiter's moons
The space agency plans to launch a spacecraft in 2024 to conduct flybys of Jupiter's moons. The planet has between 80 and 95 moons.
Astronomers using data from the James Webb Space Telescope say they have found indications that carbon dioxide exists on at least one of Jupiter's moons, keeping the potential open for conditions suitable for life.
NASA made the announcement on Thursday and said the compound likely originated from below an ocean on Europa and was not the result of an external source.
Europa is one of the largest of Jupiter's moons and was previously thought to have a water-ice crust and an iron-nickel core.
SEE THE OBJECTS HUMANS LEFT BEHIND ON THE MOON
"On Earth, life likes chemical diversity – the more diversity, the better. We're carbon-based life. Understanding the chemistry of Europa's ocean will help us determine whether it's hostile to life as we know it, or if it might be a good place for life," Geronimo Villanueva, a member of NASA's Goddard Space Flight Center, said in a statement.
The discovery keeps the prospects open that other space bodies might have the atmosphere or the ingredients in place to support life.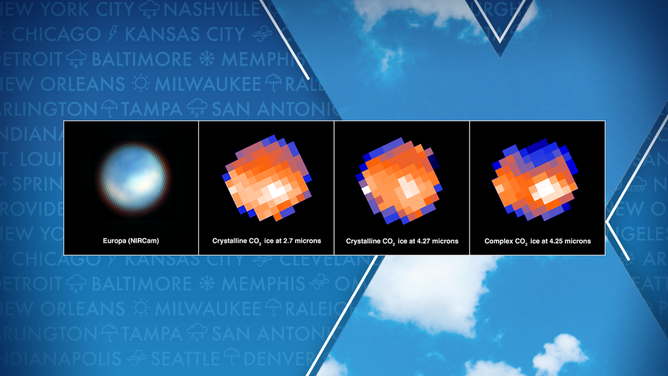 Scientists say the new observation only took a few minutes, meaning that the Webb telescope will likely lead to more discoveries during its more than decade of expected operation.
"Scientists are debating how much Europa's ocean connects to its surface. I think that question has been a big driver of Europa exploration," Villanueva stated. "This suggests that we may be able to learn some basic things about the ocean's composition even before we drill through the ice to get the full picture."
JUPITER'S FORECAST: SWIRLING STORMS AS BIG AS EARTH THAT LAST FOR YEARS
NASA plans to launch a spacecraft in 2024 to conduct flybys of Jupiter's moons, and the European Space Agency already has a craft en route to make more detailed observations of the giant gas planet.
The ESA said its explorer will pay close attention to Ganymede, Callisto and Europa, which are some of the more than 90 moons that orbit Jupiter.
The research team said they have also looked for evidence of water vapor erupting from Europa's surface, but data has been inconclusive.