NASA orders $2 billion worth of spacecraft for future Artemis missions
The exploration vehicles will be capable of carrying astronauts into deep space
DENVER – NASA is gearing up for future Artemis missions by purchasing nearly $2 billion of spacecraft that the agency hopes will headline space travel for decades.
Lockheed Martin announced Thursday that the company is under contract to produce Orion spacecraft for missions dubbed Artemis VI, VII and VIII.
The company said it has already completed two vehicles for the Artemis series and is in the process of constructing spacecraft for Artemis II-V missions.
The contract for the latest order of vehicles is reported to be nearly $2 billion.
"This order includes spacecraft, mission planning and support, and takes us into the 2030s," Lisa Callahan, a vice president and general manager at Lockheed Martin, said in a statement. "We're on the eve of a historic launch kicking off the Artemis era and this contract shows NASA is making long-term plans toward living and working on the Moon, while also having a forward focus on getting humans to Mars."
MEET THE MANIKINS THAT WILL HITCH A RIDE ON NASA'S MOON ROCKET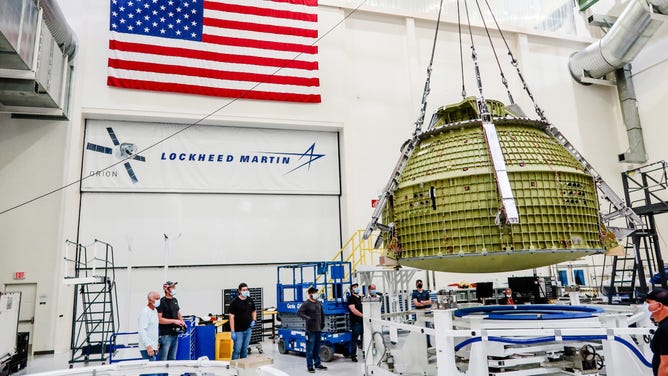 The space agency said ordering the spacecraft in groups will help keep costs lower, and engineers are already planning to reuse elements such as computers, seats, panels and avionics in the Artemis missions.
The Maryland-based company reports production costs have declined about 50 percent and could drop an additional 30 percent for vehicles for Artemis VI, VII and VIII.
Lockheed Martin said they are prepared for NASA to order six additional Orion spacecraft for its long-term space exploration plans.
NASA TARGETS NOV. 14 FOR THIRD ARTEMIS 1 LAUNCH ATTEMPT FROM FLORIDA
The first launch attempt of an Artemis rocket has faced months-long delays due to technical issues and weather.
The tentative date for the uncrewed mission has been tentatively set for November 14 from Florida's Space Coast.
The Artemis I test flight is considered to be a critical step toward NASA's goal of returning humans to the moon by 2025. If the first mission meets expectations, the Artemis launch is expected to carry astronauts around the moon, with the eventual goal of landing on the lunar surface.