NASA, SpaceX monitoring weather for Crew-3 astronaut splashdown
New splashdown time: 12:37 a.m. Friday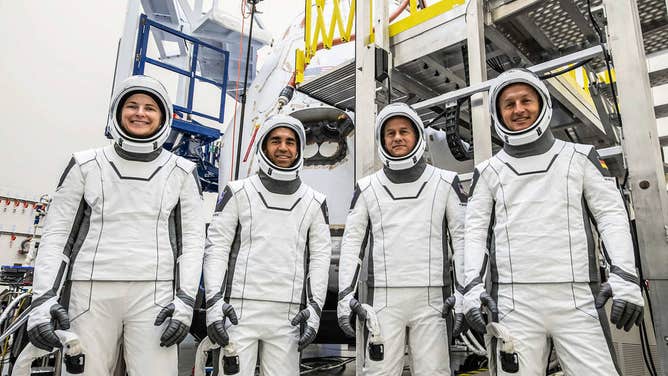 NASA is planning the return of four astronauts who have spent the last six months in orbit working on the International Space Station.
NASA's Crew-3 mission astronauts Raja Chari, Tom Marshburn and Kayla Barron and European Space Agency astronaut Matthias Maurer will depart the ISS the same way they arrived, in SpaceX's Dragon Endurance spacecraft. The Dragon will undock and then splash down in one of the following seven locations off the coast of Florida: Pensacola, Tampa, Tallahassee, Panama City, Cape Canaveral, Daytona and Jacksonville.
Mission managers in Houston are keeping a close watch on the weather conditions off Florida's coasts for safe splashdown conditions.
Ahead of the undocking teams will select primary and backup splashdown locations where recovery teams will be waiting for the Dragon capsule.
On Tuesday, Kathy Lueders, the head of NASA's human spaceflight program, said the Crew-3 departure is being delayed to later in the week.
NASA AND RUSSIA CONTINUE SPACE EXPLORATION TOGETHER 'DESPITE THE HORRORS' IN UKRAINE
Lueders said the agency is now targeting Thursday at 1:05 a.m. to undock the Dragon and begin the astronaut's journey home. If that departure time holds, the Dragon would splash down at 12:37 a.m. Friday.
"The new undocking time allows for shorter phasing & more time to review the latest forecast info," Lueders wrote on Twitter.
Lueders said teams will conduct another weather review 24 hours before undocking and decide if they will move forward.
NASA has specific criteria for a successful spacecraft recovery, including wind speed no greater than 15 feet per second and waves with no greater than a 7 degrees wave slope. According to NASA's landing criteria, lightning must be further than 10 miles out, and rain chances also need to be around 25%.
CLICK HERE TO GET THE FOX WEATHER UPDATE PODCAST
Chari, Marshburn, Barron and Maurer arrived in November and recently welcomed the four Crew-4 four astronauts to the ISS last week.
In the days leading up to their return to Earth, the Crew-3 astronauts have been handing over their research responsibilities to the newly arrived NASA and ESA astronauts.
On Tuesday, Marshburn handed over command of the ISS to Roscosmos cosmonaut Oleg Artemeyev.