'You've gotta be kidding': Florida man's nosey neighbor is 8-foot alligator
State officials say an alligator may be considered a nuisance if it's at least 4 feet in length and believed to pose a threat to people, pets or property
ODESSA, Fla. – It's not every day that an 8-foot alligator comes to visit you at your front door. Well, maybe in Florida it is. 
It was not the doormat Ed Ferraro was expecting Wednesday afternoon when he walked out of his home in Odessa. He heard a rattling at the front door and assumed it was some sort of package delivery. But that was far from the truth. 
"I got up, and I went out there to go check on what it was, and fortunately, I cracked my blinds. I just looked out there, and I saw this monster alligator on my front porch," Ferraro said. "It definitely freaked me out. It's not something you see every day."
He initially thought the giant reptile was fake, and he was simply the victim of a prank.
SEE YA LATER, ALLIGATOR! HUGE REPTILE TAKES EASTER STROLL THROUGH FLORIDA NEIGHBORHOOD
"But I then I started looking at it. I'm like, 'Oh no, this is definitely a real, very real thing. I was just completely dumbfounded," he said.
Thankfully, a neighbor driving by stopped her car and was on the phone with neighborhood security guards, who ended up contacting the Florida Fish and Wildlife Conservation Commission. The area was soon cordoned off to prevent any unsuspecting joggers or dog walkers from having a face-to-face encounter.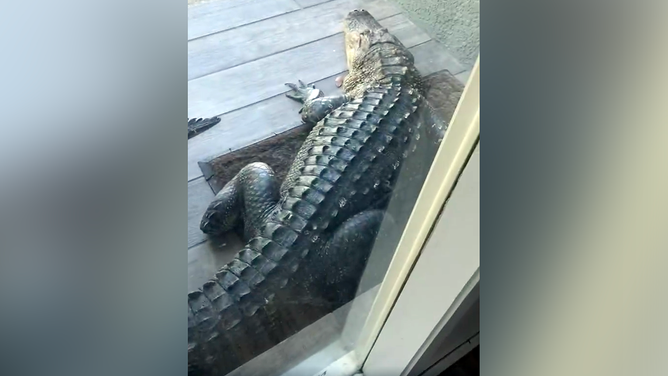 Ferraro said they occasionally see gators in their neighborhood's lakes and ponds, but they really don't venture near people. 
"Apparently this one had come from across the street. Why the alligator crossed the road? I do not know," he joked.
Ferraro assumed the gator needed a place for shade to cool off. Temperatures at time were about 85 degrees. And before the trapper could even get to his home, the gator got up and moseyed back into the lake. And that was it. 
'TURTLE' IN FLORIDA SEWER TURNS OUT TO BE MASSIVE ALLIGATOR, TODDLER DISCOVERS
"I had a bird fly into my house one time and that was a whole other experience and never anything even close to this," Ferraro said.  "They kind of tend to keep their distance from the people in this neighborhood. They actually restock the lakes with fish to make sure that the gators have more than enough food so they don't have to go after small pets," Ferraro said.
State officials say an alligator is considered to be a nuisance if it's at least 4 feet in length and believed to pose a threat to people, pets or property. 
TEXAS WOMAN COMES FACE-TO-FACE WITH AN ANGRY 8-FOOT ALLIGATOR
Florida has about 1.3 million alligators that call the state home and are found in all 67 counties. If you are ever approached by an alligator, even a small one, you should not handle it because their bites can result in serious infection, and it's illegal without a permit, the FWC said. Homeowners should call the Nuisance Alligator Hotline at 866-FWC-GATOR for a contracted nuisance alligator trapper to resolve the situation.
Relocated alligators often try to return to their capture site, according to wildlife officials, and can create problems for people or other gators along the way. This is why if adult nuisance alligators are caught, they are killed. If an alligator successfully returns, capturing it again would be necessary and likely more difficult the second time.
LOVE BITES: GATORS ON THE LOOSE IN FLORIDA AS MATING SEASON BEGINS
Now every time Ferraro opens his door up, he looks both ways and a little leery of going anywhere.  He also offers some words of advice for anyone who may encounter a massive gator at their front door.
"Just do not approach it. Do not go anywhere near it. Just leave it alone and let them be. It's his porch at that point, just let him have it," he said.