Clouds be gone: Partial lunar eclipse will be visible for most of US
The November 2021 partial lunar eclipse marks the longest in more than 600 years.
ORLANDO, Fla.-- A partial lunar eclipse happens overnight Thursday into Friday, offering a treat for stargazers for about five hours.
A partial lunar eclipse happens as the moon slips behind the Earth's shadow, and, in this case, only a sliver of the moon will be visible during totality or peak eclipse.
Astronomer Derek Demeter, director of the Emil Buehler Perpetual Trust Planetarium in Seminole County, Florida, said this partial eclipse would shadow nearly all the moon.
"It's 97% which is still pretty darn impressive," Demeter said.
For viewers on the East Coast, the eclipse event starts around 2 a.m. ET and will go on until after 5 a.m. According to NASA, for the West Coast, the event begins around 11 a.m. with a maximum covering at 1 a.m.
According to NASA, this will be the longest partial lunar eclipse in more than 660 years or since Feb. 16, 1356.
The reason for the lengthy lunar event is that the moon will be almost at its furthest point from Earth when the eclipse begins.
As long as cloud cover doesn't get in the way, the partial eclipse should be visible from pretty much anywhere the moon appears above the horizon.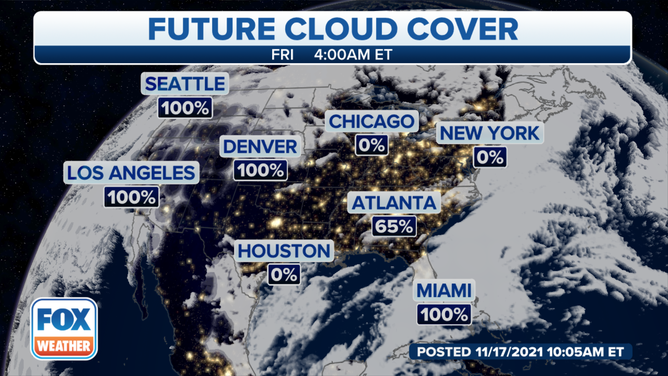 According to FOX Weather's meteorologists, parts of southeast should have a cloud-free sky Friday morning. The Chicago area, away from populated areas, will also have low cloud cover for optimal viewing. Unfortunately, most West Coast and Pacific Northwest will have a blanket of clouds blocking their view.
Demeter offered some viewing tips and what to expect.
"They will notice around 1 a.m a little darkening on the edge of the moon, and then it will start progressing," he said. "Between 3 to 4:30 a.m. (ET) is when you want to be out and looking."
It will look like the moon is going through all its phases in just a few hours.  But the moon won't look dark; the obscured areas will actually turn a dark red or orange - the projection of all the Earth's sunrises and sunsets on the moon at that moment.
The partial eclipse ends by 5:48 a.m., but by that time, the moon will be very low on the horizon, Demeter said.
For those who don't want to spend hours outside, Demeter recommends setting your alarm for 3 or 4 a.m., then heading outside to look up at the moon.
If you are ready for a sky-gazing adventure beyond your backyard, it's best to find a spot away from city lights. Demeter recommends using the Dark Sky Site Finder website to see where light pollution is less intense in areas around you.
A partial eclipse is an excellent opportunity to observe more than the moon, explained Demeter, because, at totality, the sky will be about as dark as a crescent moon.
In this case, the moon will be next to the Pleiades, also known as the Seven Sisters star cluster. This week also marks the peak of the Leonid Meteor Shower, and you might be lucky enough to see a meteor.