Video shows largest passenger jet ever to land on Antarctic ice field
The huge passenger plane has the capability of ferrying hundreds to the remote region quickly with equipment.
TROLL AIRFIELD, Maud Land, Antarctica – The largest passenger aircraft ever to land in Antarctica touched down on a runway on the Troll Airfield, paving the way for more research in the remote, frosty area. The 787 Dreamliner, landing at the Norwegian Polar Institute, has the most passenger capacity of any plane routinely landing at the South Pole.
"This is a major operation and a milestone for air traffic to Queen Maud Land," said the institute's director, Camilla Brekke. "Taking down such a large aircraft opens up completely new possibilities for the logistics of Troll, which will also contribute to strengthening Norwegian research in the Antarctic."
LOW SEA ICE IN ANTARCTICA CAUSING, 'CATASTROPHIC BREEDING FAILURE' OF PENGUINS, STUDY FINDS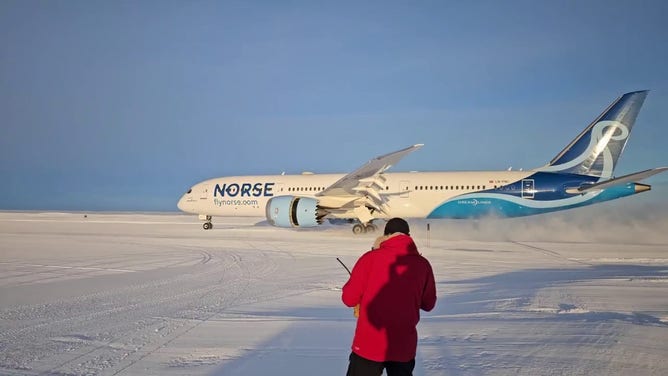 Largest aircraft to land at Norway's facility ferrying scientists
The second-largest passenger aircraft in the world, the Boeing 787 Dreamliner, only carried 45 researchers and crew but has the capacity to transport 605 people, according to AeroTime. The plane was operated by Norse Atlantic, a Norwegian airline.
"An air operation at this level will also make NP more attractive as a partner and provider of also air services for other nations operating in Antarctica," said the director of operations and logistics for the institute, John Guldahl. "On the plane that landed last night, there were passengers from several nations who were going on to other stations."
ANTARCTICA'S 'DOOMSDAY GLACIER' IS MELTING AWAY DIFFERENTLY THAN SCIENTISTS FIRST THOUGHT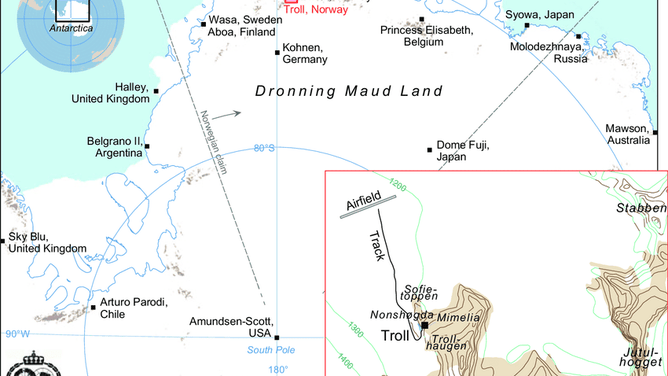 The plane also carried 13 tons of research equipment and supplies. The Dreamliner can carry tens of tons of cargo, said the institute.
The airstrip is 9,842 feet of blue ice. It only operates from October to March, the Antarctic summer. About 6 to 10 aircraft usually land at Troll Airfield per year.
"Blue ice forms when air bubbles are squeezed out of compressed snow and firn layers, which are layers of partially-compacted snow left over from previous seasons," states the U.S. Geological Survey. "Antarctica's interior is circled by glacial ice flows that move outward from the frozen continent's surface."
MORE THAN PRETTY PHOTOS: THE SCIENCE BEHIND COLORFUL SUNRISES, SUNSETS
The ice appears blue because it absorbs the sun's yellow and red wavelengths, scattering the blue that reaches the eye.
70 Permanent bases in Antarctica
Over 29 countries built 70 permanent bases in Antarctica, which can host up to 1,200 people in peak season, according to travel company Polar Latitudes. The U.S. has three.
C-5 Galaxies have landed near America's McMurdo Station, 59 feet larger than the 187-foot Dreamliner. But the cargo plane's specs claim it only has seating for seven people. McMurdo's airstrip is also scraped ice, over 10,000 feet long. The National Archives states the ice is more than 8 feet thick.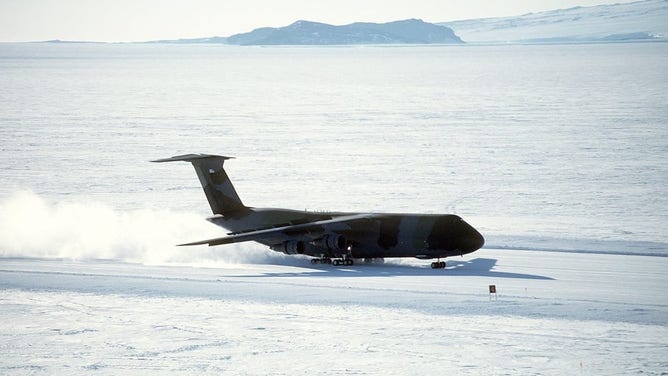 ANTARCTIC'S EXTREME WEATHER DRAWING MORE CRUISE SHIP EXPEDITIONS
Business Insider reports that a tour company charters A340s to Antarctica. The plane is 60 feet longer than the Dreamliner but has a lower max capacity of 475 passengers, according to Airbus.
"Most important is the environmental benefit we can reap by using large and modern aircraft of this type for Troll," continued Brekke. "This can help to reduce total emissions and the environmental footprint in Antarctica.
Research at the base includes weather, space weather, radiation, wildlife, glaciology, atmospheric observations, biology, seismology and geology.