Jupiter surpasses Saturn as planet with most moons in our solar system
Scott Sheppard, a staff scientist at the Earth & Planets Laboratory with the Carnegie Institution for Science, said he is tracking many more moons around Jupiter. Still, it takes a full year of observations to announce them as moons officially.
Twelve new moons have been discovered around Jupiter, putting the count at a record-breaking 92 for the largest planet in our solar system.
Scott Sheppard, Ph.D., a staff scientist at the Earth & Planets Laboratory at the Carnegie Institution for Science, said he and his team noticed Jupiter was near their primary field locations in 2021 and 2022 while looking for distant objects.
Astronomers were looking for objects in the foreground that were moving near Jupiter and also looking for more distant objects in the background beyond Pluto and the Kuiper Belt.
Sheppard was joined by David Tholen at the University of Hawaii, and Chad Trujillo at Northern Arizona University, for the project. The team was able to image right up to Jupiter's Galilean moons and went deeper than any survey previously, being able to detect moons to about 0.62 miles (1 km) in size.
One of the main reasons the team was looking for more Jupiter moons is because of future interplanetary spacecraft missions visiting Jupiter in the near future.
Sheppard said these outer moons can only be visited by spacecraft as they enter Jupiter's gravitational sphere of influence. Once they are in orbit around Jupiter, they will be too close to the gas giant to visit any of the more distant moons.
WEBB TELESCOPE FINDS NEW COLOSSEUM-SIZED ASTEROID IN MAIN BELT BY ACCIDENT
The hope is that if astronomers find enough moons, one of them might be near the spacecraft's trajectory for it to get close-up images of it while the spacecraft is passing from Jupiter's outer system to its inner system.
"These outer moons are important to understand because they are the last remnants of the population of objects that formed in the giant planet region as the rest of the material was incorporating into the planets," Sheppard said.
The moons are yet to be named since the International Astronomical Union (IAU) just announced them. The agency allows the naming of any moon larger than about 1.5 miles in size. Half of these new discoveries are larger than that, Sheppard said, so they will get names.
Every moon gets a number from the Minor Planet Center. Once it is determined that the orbit is very well known, likely in the next few months, Sheppard said they would be able to name some of them.
Sheppard said they are tracking many more moons around Jupiter. Still, it takes a full year of observations to announce them as moons officially.
"So more observations will be needed on these other detected Jupiter moons in the Autumn of 2023 before they can be announced as moons," he added.
Sheppard said the reality is Jupiter has more than 100 moons larger than about 1 km in size, but only 92 of them have been officially confirmed by the IAU.
A LOOK AHEAD AT 2023 SPACE EXPLORATION MILESTONES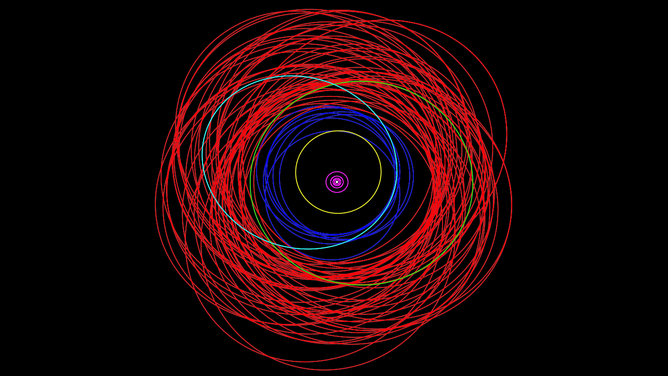 Many moons ago
Sheppard has been part of 70 discoveries of Jovian moons. For the other planets, its 43 discoveries for Saturn, two for Uranus and one at Neptune.
"We are also tracking many, many more moons around Saturn," Sheppard said. "Since Saturn is further away, it is harder to find moons at Saturn because they are fainter."
WHY NEW JAMES WEBB SPACE TELESCOPE IMAGES HAVE SCIENTISTS EXCITED ABOUT CLOUDS ON SATURN'S MOON TITAN
The confirmed moons around the giant planets in our solar system are at:
Jupiter - 92
Saturn - 83
Uranus - 27
Neptune - 14
Sheppard believes they are complete for moons around Jupiter to about 1 km in size. The completeness at Saturn is only to about 3 km in size.  
"We believe when comparing the planets to the same size range of moons, Saturn has more, but both planets have many of these small moons because they are collisional fragments of once bigger moons that broke apart from comet, asteroid or other moon collisions," Sheppard said.