James Webb Space Telescope launch delayed to Christmas Eve
New launch date could be Christmas Eve or later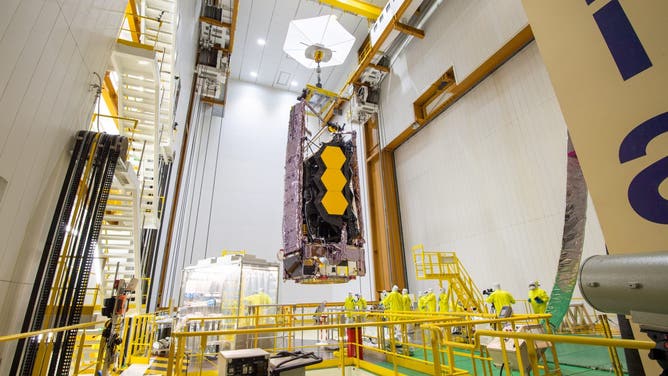 After a communication issue between the James Webb Space Telescope and its ride to space, the most powerful space telescope is facing another launch delay.
Webb is at Europe's Spaceport in French Guiana, awaiting liftoff to its new home 1 million miles from Earth. 
The $11 billion observatory has faced years of delays. It was a Herculean effort to assemble and test Webb with its 18-gold plated mirrors and a sun shield about the size of a tennis court.
The launch was previously planned for Dec. 22, but on Tuesday, NASA said it's now targeting no earlier than Christmas Eve. 
"The James Webb Space Telescope team is working a communication issue between the observatory and the launch vehicle system," the agency said in a blog post. "This will delay the launch date to no earlier than Friday, Dec. 24."
MORE: How to move a $10 billion space telescope 5,800 miles, avoid pirates and see back into the cosmos
Most recently, the observatory was folded up, and teams began mating the spacecraft to the Ariane 5 rocket. According to NASA, Webb was successfully lifted nearly 130 feet and then aligned on the Ariane 5.
NASA had a briefing about Webb planned for reporters Thursday but canceled the news conference. The agency said it would provide another update by Friday.
When the James Webb Space Telescope does launch, it will peer deeper into the cosmos to unlock the secrets of the first galaxies.