How viewing Earth from space inspired NASA astronaut's new fabric line
Karen Nyberg's launches Earth Views line to inspire quilters and crafters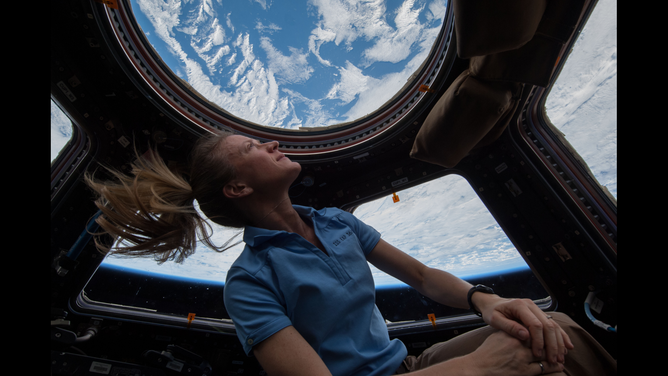 Recently retired NASA astronaut and artist Karen Nyberg is sharing her favorite views of Earth from space with a new fabric line called "Earth Views" in collaboration with the American fabric company Robert Kaufman.
"Seeing the Earth from that vantage point, seeing the blackness around it and realizing that Earth is just really this lone entity just hanging there in space and that everything on Earth, it is one entity and everything on it is connected," Nyberg said of her experience looking at Earth from space.
This profound moment for space explorers is known as the overview effect. 
Nyberg spent over 180 days in space over two missions flying on both space shuttle and the Russian Soyuz spacecraft.
The veteran astronaut is no stranger to fabrics and crafting. While on her last stay on the International Space Station in 2013, Nyberg brought her quilting supplies and became the first to create a quilt square in space, launching the astronomical quilting challenge.
Her time in space made her realize "that the Earth is a special place, and it's a place that we need to be very cognizant of conserving for next generations."
She selected 13 photos of Earth's landscapes she took during her time in space for her new fabric line available in April 2022. The line includes 30 different color arrangements known as colorways.

According to the Crafting Industry Alliance, there are between 10-12 million quilters across the U.S. However, some of the most excited for Nyberg's new fabric line are the seamstresses of the space program, like Jean Wright, on Florida's Space Coast.
"A lot of people have no idea the amount of hand sewing or quilting that you need for space," Wright said.
Wright was part of the team responsible for making the thermal blankets on the space shuttle. The former shuttle-era seamstresses refer to themselves as the "Sew Sisters."
Wright and her team were responsible for hand-sewing thousands of gap fillers to content space shuttle tiles meant to withstand extreme heat upon launch and re-entry.
"It took about roughly about 17 hours for us, for two of us, to stitch all 12 of them in," Wright said about the thermal barriers that line the shuttle wheel wells.
Houston is known as the home to NASA astronauts, but it's also home to the International Quilt Festival, the largest quilting event globally.
Nyberg and Wright both presented at the festival in 2014 after the astronaut returned home from space.
"We joke that Karen talked about the quilt block she made in space, and I talked about the quilts that we made that covered the outside of the shuttle," Wright said. 
For Wright, the Earth Views collection is a full-circle moment. 
"The astronauts see at least 16 sunrises and 16 sunsets," Wright explained. "She is seeing all this beautiful echo culture, snowcapped mountains, seas, and oceans. To me, it's only natural. You've got the beauty of Earth that it would translate into doing something for fabric."
Nyberg described looking out of the space station cupola window and capturing the images used for the new fabric line. She said she would carefully frame each photo before the shot as a piece of art. When it came time to pick some for the fabric line, she carefully considered her options again.
"What I did is pick some of my favorite pictures and not just my favorites, but I think ones that show different textures of Earth and different ecosystems on Earth," Nyberg said.
The Earth Views fabric line includes sunsets, rivers, lakes, deserts, farmlands, and oceans. One is a picture of clouds Nyberg describes as popcorn-like.
"I'm really excited to see what people create because I think there's going to be a huge variety of things," Nyberg said. "I can't wait to see the imagination and what people come up with."
It's even more impressive to Wright that the collection is made on 100% organic cotton. The process to produce fully organic fabrics isn't just in the dyes but also in how much water is used and keeping the environmental impacts as small as possible. 
Nyberg said it was important that the fabric was printed on organic cotton.
"It is important that we're at least cognizant of those things and how much water we use and what kind of chemicals we use when making fabrics."
In the U.S., organic cotton growing is regulated by the National Organic Program. Using this method, farmers can't use synthetic fertilizers or artificial inputs. Still, organic cotton only makes about 1% of the plant produced in the U.S., according to Cotton Inc.
The retired space explorer hopes that showing the beauty of Earth through the fabrics will inspire people to protect our planet.
"One of the main things is bringing attention to the beauty of Earth and just making people think about that," she said.
As a docent at the Kennedy Space Center Visitor Complex, Wright talks to guests about how the art of sewing can be used in spaceflight and says some are often surprised to learn about her role.
Similar to Nyberg, she wants people to be inspired by space to create.
"I'm just trying to make it so that space is relatable to everybody," Wright said. "I was alright in math and science, but I've always been creative. So that's why I think it's so neat that Karen is blending science and technology with creativity."