See how veterinarians diagnose a nearly 400-pound alligator in Florida
The Florida Fish and Wildlife Conservation Commission estimates there are around 1.3 million alligators in the Sunshine State, living in all 67 counties.
GAINESVILLE, Fla. – A day at the office for staff at the University of Florida's College of Veterinary Medicine involved examining a 376-pound alligator named Brooke, who was reportedly exhibiting symptoms of some type of ailment.
Brooke is a resident of the popular St. Augustine Alligator Farm Zoological Park, which is less than a two-hour drive from the university.
Veterinarians said while at their facility they conducted blood tests and performed a CT scan to determine why the reptile exhibited intermittent head-rolling while in its lagoon.
After a series of medical tests, the team determined that Brooke was suffering from an ear infection.
The college did not state what type of medicine one should give a nearly 400-pound reptile suffering from a painful earache but posted on its Facebook page, "We hope he'll be on his way to recovery soon."

SEE THE MASSIVE ALLIGATOR FOUND LURKING IN A SOUTH FLORIDA SWAMP
The examination was not the first time the Gainesville-based university has treated a unique animal.
Staff has attended to the needs of horses, snakes, lizards and plenty of other reptiles since its establishment in the 1970s.
According to the university, the center has received global recognition for its specialization in reptile care.
In 2020, the college received international attention for its treatment of "Bob," a 660-pound alligator from the same zoological park in St. Augustine.
The 12-foot, 4-inch reptile was determined to be suffering from a bone infection and was given antibiotic therapy.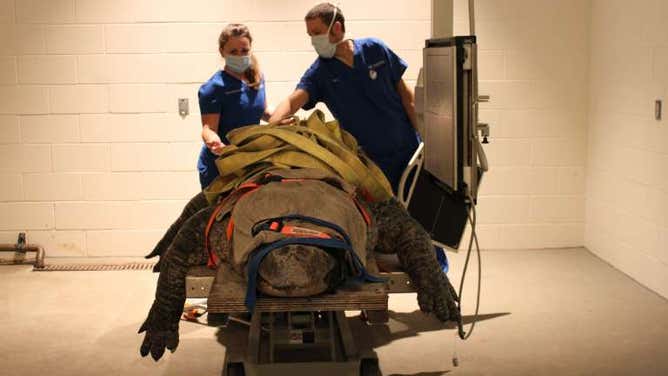 ONLY IN FLORIDA: WATCH A MANATEE CHASE AN ALLIGATOR AT A FLORIDA PARK
Curators at the St. Augustine Alligator Farm Zoological Park are always happy to work with the university for the betterment of their animals.
"Thanks for taking such amazing care of our animals," park staff wrote on a recent social media update on Brooke's examination.
There's no word yet on when alligator will be back in its lagoon for visitors stop by and see the sights at one of the country's oldest zoos.