Florida man describes prying his head out of a 12-foot alligator's mouth as 'nothing short of a miracle'
Drone video shows the large alligator swimming for JC Defeats and the struggle that ensued. The Florida firefighter paramedic underwent brain surgery to remove his right temporal lope and will need another surgery in the future.
A Florida man is recovering after an estimated 12-foot alligator chomped down on his head, fracturing his skull and jaw, but he was able to pry the reptile's mouth open to swim away.
JC Defeats was swimming in Lake Thonotosassa on Aug. 3 when the near-deadly reptile encounter happened. He was working on an educational video for his company, Defeat-X, at the time of the attack, which is why his drone recorded video of the moment the massive reptile jumped out of the water.
The 34-year-old Florida resident said he usually takes safety precautions when others are with him, but that day, he let his guard down while alone. 
"Since it was just me and not other people I had to take care of, I had that arrogance that I could do this really quick and get it done with and move on with my day," he told FOX Weather.
ALLIGATOR HUNTING SEASON KICKS OFF IN FLORIDA WITH EXPANDED HOURS, WEAPONS
The U.S. Air Force veteran and Oldsmar firefighter paramedic said he didn't see the alligator coming because he wasn't wearing his goggles. In the video, the giant alligator can be seen swimming directly toward Defeats before the two collide into a tumble of splashes.
"The first thing I felt was a telephone pole with teeth," Defeats said, adding he knew he needed to fight back. "I needed to get this beast off of me and get out of the water."
Defeats fought off the gator by feeling for its teeth and opening its mouth. It was over in a matter of seconds.
"Somehow, through nothing short of a miracle, the alligator opened its jaws and let me go," he said.
The drone video shows the struggle in the water as Defeats said he and the alligator turned 360 degrees. Then, he is seen swimming away. FOX 13 Tampa Bay reports neighbors called for help, and Defeats was taken to Tampa General Hospital. 
Defeats' wife, Christine La Verde, said his skull was fractured and had to have part of his right temporal lobe removed. He also suffered multiple bone fractures in his jaw, and surgeons added a plate to his jaw, which is still wired shut. 
TEXAS WOMAN COMES FACE-TO-FACE WITH AN ANGRY 8-FOOT ALLIGATOR
"But he is progressing well," La Verde said.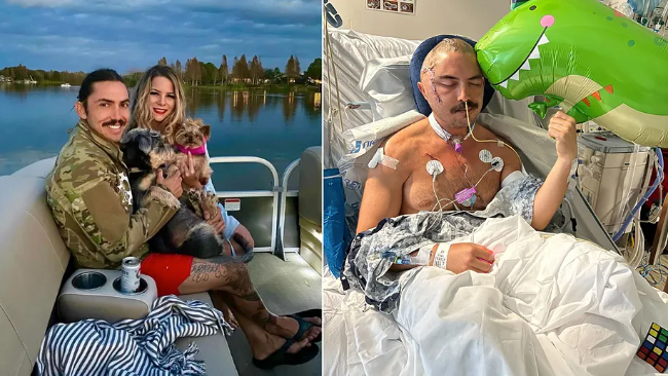 Defeats spent a little more than a week in the hospital before doctors gave him the okay to return home.
WATCH: MASSIVE ALLIGATOR MAKES A MEAL OUT OF SMALLER ALLIGATOR 
The North Pinellas Firefighters Charities started a GoFundMe fundraiser for Defeats, who was a long recovery ahead. He will still need to go back for another brain surgery. 
Despite the attack, the 34-year-old said he is not afraid to watch the video of the attack or to continue to live his life without fear. 
"The world is a scary place, and there are all sorts of different reasons to not do things," Defeats said. "I guess you can not do those things with that fear if you hold it on your own, but if you have faith, you can do a lot of things that include getting your head out of an alligator."
According to the Florida Fish and Wildlife Conservation Commission, alligator and human encounters have increased as more people have moved areas closer to the reptiles' habitats. 
Over the last 10 years, the state has averaged eight unprovoked bites per year, according to Florida wildlife officials. Since 1948, 442 unprovoked bite incidents have occurred in the Sunshine State and 26 resulted in fatalities.