Watch astronauts complete the first spacewalk of the year
NASA astronaut Nicole Mann made history as the first Native American woman in space. The project to install new solar arrays outside the ISS is expected to be completed later in 2023.
While cruising at around 260 miles above Earth, two astronauts successfully completed the first of several planned spacewalks Friday to help keep the International Space Station operational until at least 2030.
NASA's Nicole Mann and Japan's Koichi Wakata spent 7 hours and 21 minutes working on the structure, which will support new solar arrays that are expected to debut as early as this summer.
The space agency said the operation went smoothly, but due to time constraints there were some objectives not completed which will be finished during a future spacewalk.
Four new solar arrays have been installed over the last couple of years, with plans by NASA to finish the series with an addition of two arrays in the near future.
IMPROVED SPACE WEATHER FORECASTS NEEDED TO AVOID DESTRUCTION OF SATELLITES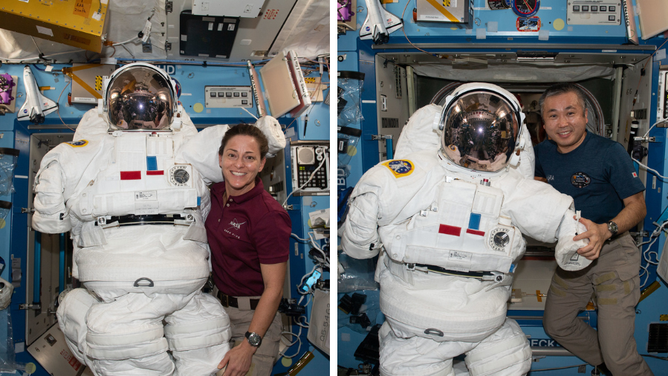 The first spacewalk of 2023 was the also first in the careers of Mann and Wakata, who are in the middle of a nearly six-month mission aboard the space laboratory.
The astronauts are part a crew of four launched aboard a SpaceX spacecraft from the Kennedy Space Center in the days after Hurricane Ian in early October.
In addition to the spacewalk, the crew was expected to perform numerous studies including on how microgravity impacts the cardiorespiratory system, modeling health issues and 3D bioprinting of human organs.
The SpaceX Crew-5 is expected to depart the station aboard their Dragon spacecraft shortly after the arrival of the SpaceX Crew-6, which could launch in late February.
WATCH OUT FOR THESE ASTRONOMICAL EVENTS IN 2023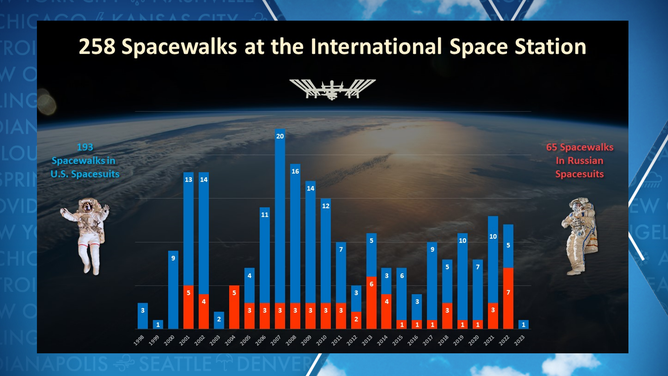 There are currently three Russian cosmonauts, three NASA astronauts and a member from the Japan Aerospace Exploration Agency aboard the space station.
With the addition of members from SpaceX Crew-6, the population at the ISS could briefly swell to 11 if delays do not alter planned arrivals and departures.