Live from Mars: European spacecraft beams back first livestream from Red Planet
ESA is set to provide a livestream from Mars sharing photos about every 50 seconds.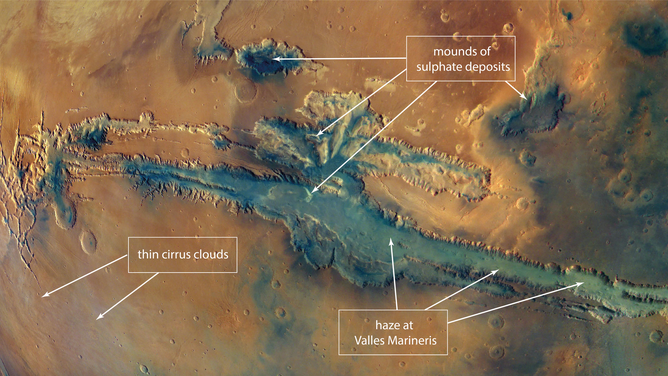 Coming to you live from Mars this Friday will be a 20-year-old robotic explorer as the European Space Agency celebrates the spacecraft's birthday with views from the Red Planet.
For 20 years, the Mars Express spacecraft has orbited the red planet more than 24,000 times, investigating its atmosphere, studying its moons and searching for proof that the rust world might have been habitable for life. 
ESA planned a livestream –  or as live as you can get from Mars – at noon ET Friday, sharing photos every 50 seconds. According to the ESA, data takes 3-to-22 minutes to make it back to Earth, depending on where Earth and Mars are positioned around the sun.
The space agency says this will be the first time live images are beamed directly from Mars. The images on Friday will be coming from the orbiter's Visual Monitoring Camera. 
NASA PHOTOS MAY SHOW EVIDENCE OF ANCIENT WILD RIVER ON MARS
ESA said because this is a first, the exact timing of the images might vary. 
"Note, we've never tried anything like this before, so exact travel times for signals on the ground remain a little uncertain," ESA wrote in a blog post. 
The livestream begins at noon on ESA's YouTube channel above.
Exceeding expectations for 20 years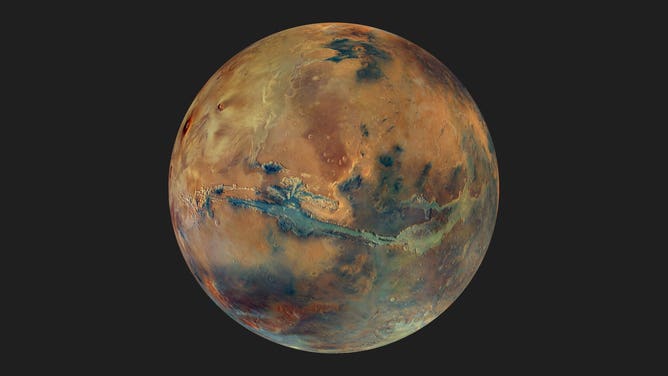 ESA released a new breathtaking composite image of Mars ahead of the spacecraft's birthday. 

SEE THE RED PLANET IN VIVID DETAIL WITH NEW INTERACTIVE NASA IMAGERY
According to the ESA, each vibrant color shows different features on Mars, from ancient volcanic activity to former river beds. A close-up look at the mosaic shows the weather including fog and cloud cover. 
ESA's Mars Express launched in June 2003 and arrived in orbit around Mars in December 2003, but it didn't officially begin science operations using its eight instruments until 2004. Initially planned to last only one year, Mars Express will continue operating until 2026.