Los Angeles' iconic Pacific Wheel to go dark in fight against climate change
Earth Hour is held every year on the last Saturday of March in more than 190 countries and territories
LOS ANGELES – The world's only solar-powered Ferris wheel in California will go dark Saturday in a symbolic lights-out event to raise awareness for nature loss and climate change.
Los Angeles' iconic Pacific Wheel will join other world-famous landmarks like the Eiffel Tower in Paris, the Parthenon at the Acropolis in Greece, Big Ben and the Houses of Parliament in London, Victoria Harbour in Hong Kong, the Great Wall of China and the Sydney Opera House in Australia.
It's all in part of Earth Hour, one of the largest global grassroots movements for the environment first established in 2007 by World Wide Fund for Nature. It's held every year on the last Saturday of March in more than 190 countries and territories.
Starting at 8:30 p.m. local time, the wheel's 174,000 LED lights will be turned off as it soars 130-feet above the Pacific Ocean.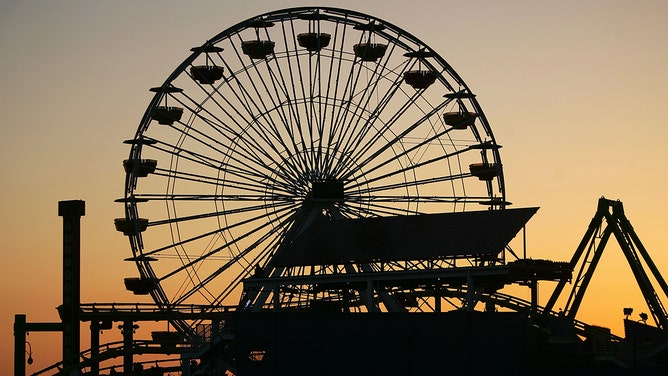 "Pacific Park has supported Earth Hour since its inception and echoes its sustainability, climate, and environmental messaging and initiatives throughout the world," said Nathan Smithson, director of marketing and business development at Pacific Park on the Santa Monica Pier. 
The nine-story-tall Pacific Wheel first debuted in May 1996 with the opening of Pacific Park and adapted to solar power in November 1998. The amusement park also introduced the world's first wind-powered amusement park game, the High Striker, in October 2011. 
"From solar power and wind power to the power of grassroots efforts, we are committed to being the best environmental partner possible with our team members and community to globally working with national companies and international organizations," Smithson said.
The amusement park said that the Pacific Wheel's eco-friendly, enhanced LED lighting provides 81 percent greater energy savings than most Ferris wheel's traditional incandescent bulbs.
Click here to view the Pacific Wheel Earth Hour event.