Drone video captures shark hunting off Long Island beach
Drone video shows a shark feeding off the popular Hamptons' coast this weekend, not even three weeks after 5 people were bitten over the July Fourth holiday week.
SOUTHAMPTON, N.Y – Here, fishy, fishy. A toothy shark was seen gliding through a school of fish just off the coast of Southampton, New York, on Saturday.
A photographer caught the terrified school of fish by drone, trying to steer clear of the carnivore. She told Storyful that this was a "successful hunt" close to the coast of one of America's most storied summer beach hangouts on Long Island.
TEEN SURFER ATTACKED BY SHARK OFF NEW JERSEY COAST: 'IT PULLED ME DOWN A LITTLE BIT'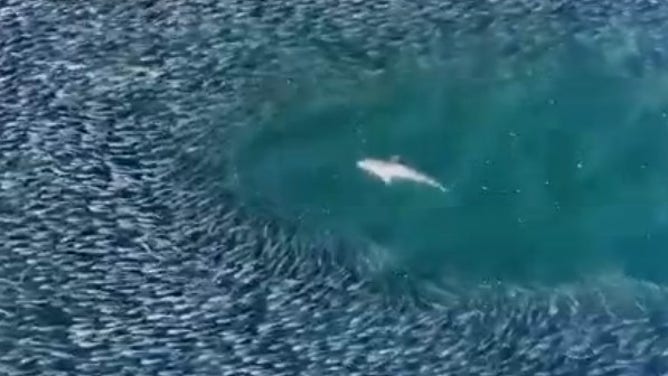 Recent spate of shark attacks
The iconic summer haunt on Long Island has been no stranger to sharks recently. Local media reports that sharks have bitten five people off of Long Island over the week of the Fourth of July. Three of those attacks happened in just two days.
Authorities promptly stepped up shark patrols along beaches from New York City to the tip of Long Island. Then, New York Governor Kathy Hochul announced on Shark Awareness Day, July 14, a new massive and high-tech effort to keep swimmers safe.
"We have a million-dollar plan where we're equipping communities with high-tech drones to monitor shark activity," announced Hochul at a press conference. "And starting today, we'll be providing over 60 of these drones to communities from Long Island to New York City to Westchester, which is our vulnerable areas."
STAY SHARK SMART: WHAT TO KNOW WHEN YOU HEAD INTO THE WATER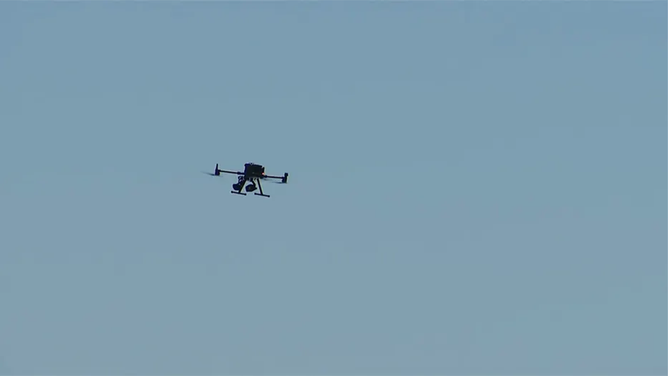 She also announced the hiring of more lifeguards with pay raises for all. 
"And so, giving the lessons of last summer and seeing the change in sharks' behavior, we knew early on before the season even started, we had to take preemptive steps and get the awareness out there and to do everything we can to keep beachgoers safe," she continued.
Summer of the shark 2022
The summer of 2022 saw a record eight shark attacks in the state. The total was staggering compared to the total of attacks from the past decade, which totaled just one.
SHARK SPOTTERS: SCIENTISTS ASK BEACH GOERS TO HELP KEEP TRACK OF SHARKS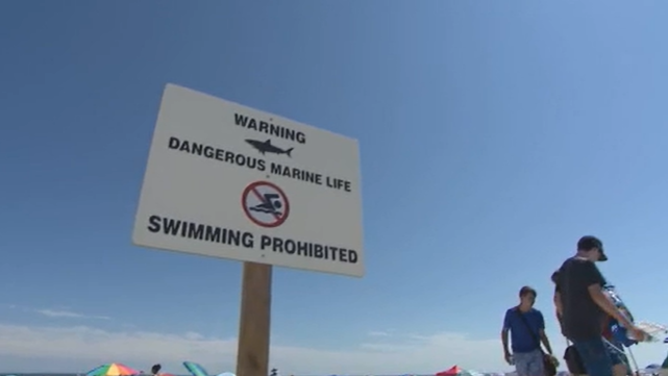 "And the sharks are coming closer, and this is the good news - not that they're coming closer, but they're coming closer because the water is more pristine," cautioned and lauded Hochul. "It's cleaner than it was 50 years ago. And the habitat is moving, and the species that they feed off of are coming in closer because we've done such a good job cleaning up the water that people swim in and the fish and sharks live in."
Across the U.S., 471 people have been bitten by sharks from 2021 to 2021, and only eight were fatal, according to the International Shark File.