NOAA pumping $15 million into climate change research and improving resilience
The studies will improve understanding of wildfires, drought, animal habitats and the impacts of aerosols
The National Oceanic and Atmospheric Administration has awarded more than $15 million to groups and research projects intending to improve the nation's resilience against extreme weather.
The money will support 63 projects from coast-to-coast to help improve understanding of climate impacts.
The funding focuses on various drought projects, marine sanctuaries, rural communities and aerosol releases.
"These new NOAA investments are essential to improve understanding of climate change, how to mitigate increasing impacts, and bolster community resilience. All of these substantive steps work together towards our goal of building a Climate-Ready Nation," NOAA Administrator Rick Spinrad said in a statement.
6 RARE '1,000-YEAR' RAIN EVENTS WITHIN A MONTH? CLIMATE CHANGE MAY FORCE NOAA TO UPDATE CRITERIA
NOAA said having a better understanding of wildfire pollutants, observing drought impacts on ecosystems and accessing the adaption of communities will identify future needs.
Top recipients of funding over the last six years include projects in Colorado, California and Florida, which are some of the areas that billion-dollar disasters have threatened.
"The window of time to avoid costly, deadly, and irreversible future climate impacts is quickly dwindling," U.S. Secretary of Commerce Gina Raimondo said in statement.
DRONE VIDEO SHOWS 50-FOOT WAVES AND DESTRUCTIVE WINDS IN THE HEART OF HURRICANE FIONA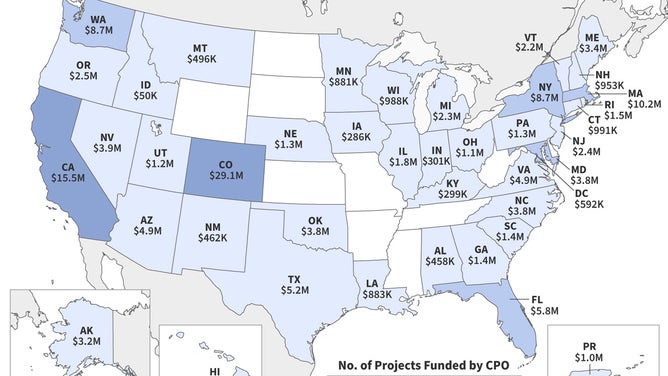 Some of the funding will go to increase partnerships with tribal nations that have been the subject of recent advancements with the National Integrated Drought Information System (NIDIS) Program.
The agency said by understanding impacts on communities it'll help improve drought resilience and determine funding needed for future projects.
Projects in tribal regions of California, Oregon, Montana, New Mexico and Idaho will be beneficiaries of the latest influx of money.