Bob Ross' environmental legacy lives on through thousands of 'Happy Little Trees' in Michigan
The program allows Michigan inmates to care for seeds and learn horticultural practices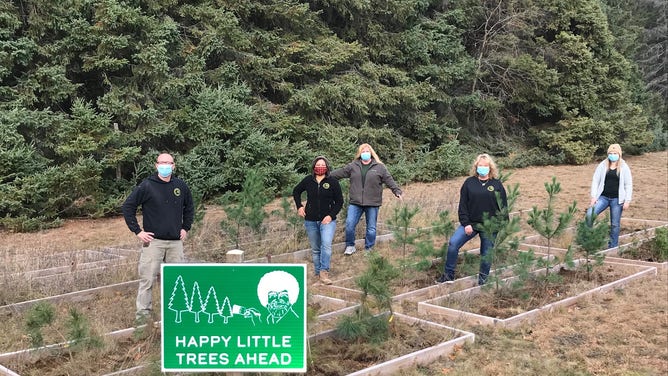 The "happy little trees" late artist Bob Ross taught millions to paint have become real-life trees grown by Michigan inmates thanks to a unique partnership between the Department of Natural Resources and state corrections facilities. 
Since 2004, more than 100,000 native plants, shrubs and trees have been planted as part of the Michigan DNR and state Department of Corrections program. Inmates raise the trees learning horticultural skills until they are about 5 feet tall, and then volunteers go back and collect the trees, planting them in Michigan state parks. 
When the Parks and Recreation team talked about a good way to spread the word about the program, Michelle O'Kelly, with DNR Fund and Resource Development, thought of the artist and TV host Ross.
"Thinking of this tree that's living in a correctional facility and now gets to leave and go live in a beautiful park. And so the tree is happy," O'Kelly remembers. 
After reaching out to Bob Ross Inc. to ask if Parks and Recreation could incorporate Ross' saying of "happy little trees" and use his likeness, O'Kelly received a green light, and the program was re-branded "Happy Little Trees."
"They, of course, said, 'Yes, we would love to do that. Bob would love this,'" O'Kelly said, adding it's been a great partnership.
In 2019, when some federal funding was about to expire, the team again turned to Ross for inspiration, and the "Happy Little 5K" was born.
"They let us use his likeness out of the kindness of their heart," O'Kelly said of the Kowalski family and Bob Ross Inc.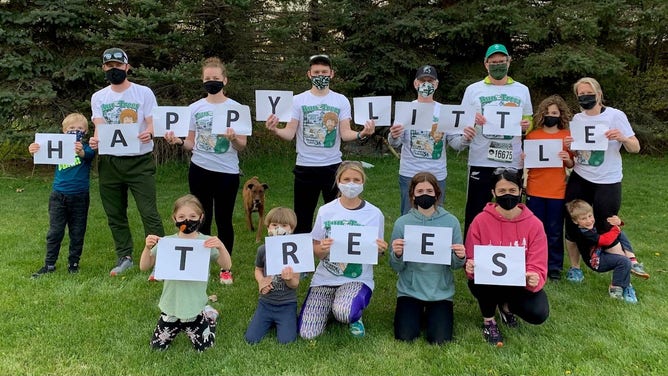 O'Kelly said they expected maybe 1,000 people might sign up to run at a state park for the 5K, but when the DNR set up an email for people to find out when registration opened, more than 20,000 people signed up.
"It was pretty quickly that people are reaching out, saying 'we live in another state, we live in another country, we'd like to participate. We support the program, and we love Bob Ross.'" O'Kelly remembers. "That's what we decided to have this whole thing go virtually."
Runners and walkers can complete the 3.1 miles anywhere between April 22 (Earth Day) and April 29 (Arbor Day). For the first year of the event, more than 19,000 people participated worldwide and in all 50 states.
In the three years since the 5K started, O'Kelly estimates the run has raised a little less than $1 million. The registration costs $34, and some of that pays for shipping, along with the specialty Bob Ross medals and t-shirts, but what remains helps more trees be planted and pays for equipment needed to mitigate invasive species and move trees.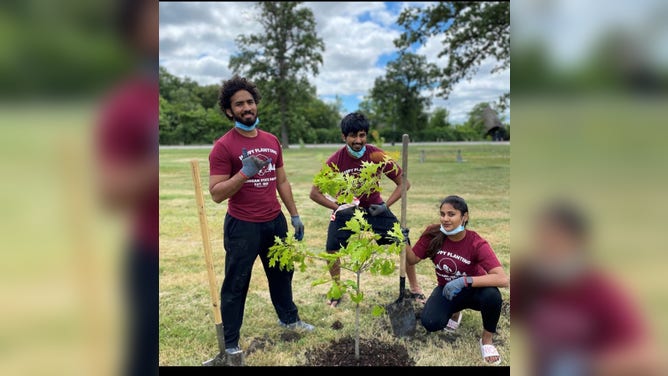 Pre-COVID, O'Kelly estimates volunteers plant about 1,000 trees a year. The program works with AmeriCorp and other volunteer groups to move the trees to their final homes. 
"We definitely have this long list of people that are willing and ready to start planting trees for us if we when we're ready," O'Kelly said.
On your next visit to a Michigan state park, look for bright green "Happy Little Trees Ahead" signs to spot trees part of the program.