Blue Origin partners with industry leaders to build a 'business park' in space
NASA put out a call for private options to eventually replace the aging International Space Station.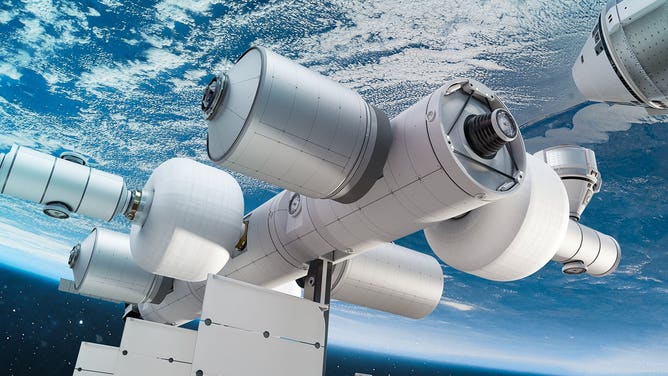 Low-Earth orbit is about to get a lot more crowded in the next decade as Blue Origin became the latest private space company to announce its plans to build a space station.
Jeff Bezos' company has partnered with space-industry leaders, including Boeing, Redwire Space, Sierra Space and research institutions to develop an orbiting outpost called the Orbital Reef.
The joint initiative was announced Monday at the International Astronautical Congress in Dubai.
Company executives described Orbital Reef as a "mixed-use business park" in space. It's the latest initiative in a series of private space stations proposed for the coming decade with help from NASA contracts.
The International Space Station has been operating with humans working continuously in space for more than 20 years. The orbiting outpost for American, Japanese, Russian and European astronauts – and more recently, tourists-- is expected to retire by the decade's end.
NASA recently put out a call for companies interested in taking part in the Commercial LEO Destinations project. Under this new program, NASA asks commercial companies to pick up where the agency leaves off, filling the need for access to low-Earth orbit for research and business.
Now private companies are vying for NASA-funds to help start and operate the first private orbiting space outposts.
Blue Origin says it will use its New Glenn rocket to launch the Orbital Reef modules. The heavy-lift rocket will launch from Cape Canaveral Space Force Station in Florida, but the vehicle is still under development. Blue Origin estimates the rocket's maiden voyage will happen sometime in late 2022. 
Meanwhile, Boeing's Starliner spacecraft and Sierra Space's Dream Chaser space plane will shuttle people and cargo to and from the Orbital Reef. Boeing, Sierra Space and Blue Origin will all contribute to the structure of the space station.
Instead of wearing microgravity spacesuits, Genesis Engineering Solutions will offer a single-person spacecraft for activities outside the station. The video released with the announcement shows a rendering of a small spacecraft with mechanical arms and a bubble window. 
"The Single-Person Spacecraft will transform spacewalking," Brand Griffin, Genesis Engineering Solutions program manager, said in a news release. "Space workers and tourists alike will have safe, comfortable, and quick access outside Orbital Reef. Shirtsleeve environment, great visibility, automated guidance, and advanced precision manipulators will make external operations cost-effective and routine."
Arizona State University will lead a group of universities under the Orbital Reef University Advisory Council to offer microgravity research and STEM outreach expertise. 
Redwire Space will contribute to payload operations and support research and manufacturing.
According to the news release, the orbiting outpost will have accommodations for up to ten people and will have "almost as much" space as the ISS. 
The Orbital Reef website is already allowing people to "reserve your place" and request more information.
A spokesperson declined to disclose how much each partner was investing or the overall cost of the project.
The baseline configuration of the orbital outpost should be complete "well in advance of NASA's need to transfer utilization off of ISS, in the second half of the decade," an Orbital Reef spokesperson said. 
Blue Origin's announcement is among the most recent, but there are multiple plans in the works. 
When NASA first made it known it was seeking commercial companies to take over before the ISS retires, about 50 companies responded, according to the U.S. government contract website SAM.gov. 
NanoRacks announced last week it has teamed up with Lockheed Martin and Voyager Space to build a mini space station called Starlab, with operations beginning in 2027. The smaller station will include a sizable inflatable habitat built by Lockheed Martin. According to a news release, it will be able to host four astronauts at a time to conduct science and research.
Texas-based company Axiom Space has already received approval from NASA to begin building its private space station onto the ISS. 
In February 2020, NASA awarded Axiom a $140 million contract to provide at least one new habitable module for the ISS.
The first two elements are scheduled to launch in 2024 and 2025. By 2028, the station should be operating of the ISS, according to Axiom's latest timeline.