Crew-3 astronauts splashdown in SpaceX Dragon off Florida's Gulf Coast
The Crew-3 astronauts spent 177 days in orbit
Four astronauts arrived back on Earth after nearly six months in space early Friday morning, shortly after they splashed down in a SpaceX Crew Dragon off Florida's Gulf Coast.
NASA astronauts Raja Chari, Kayla Barron, Tom Marshburn and European Space Agency astronauts Matthias Maurer departed the International Space Station just after 1 a.m. ET Thursday and spent just under 24 hours in orbit before beginning re-entry to Earth.
The astronauts part of NASA's Crew-3 mission splashed down at 12:43 a.m. ET Friday in the Gulf of Mexico where recovery teams were waiting by boat.

NASA AND RUSSIA CONTINUE SPACE EXPLORATION TOGETHER 'DESPITE THE HORRORS' IN UKRAINE
During the journey back to Earth, Dragon traveled at speeds around 17,500 mph. As the spacecraft hit Earth's atmosphere, it slowed down and then used drogue and main parachutes to make a gentle splashdown at 1 to 2 mph. 
Mission managers in Houston keep a close watch on the weather conditions off Florida's coasts for safe splashdown conditions.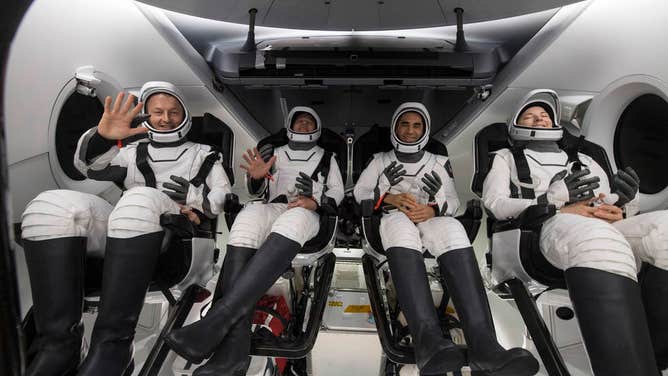 Ahead of the undocking, SpaceX and NASA teams selected primary and backup splashdown locations where recovery teams will be waiting for the Dragon capsule.
CLICK HERE TO GET THE FOX WEATHER UPDATE PODCAST
Their arrival home concluded a 177-day mission in orbit that started with a launch in November from Kennedy Space Center. After returning to shore, the astronauts were flown back to NASA's Johnson Space Center in Houston. 
The mission marked the first spaceflight for Maurer, Chari and Barron. During their stay in space, the crew conducted three spacewalks and worked on hundreds of science experiments in the orbiting laboratory.
Last week, SpaceX launched the Crew-4 astronauts to the ISS, marking the fourth long-term spaceflight part of the Commercial Crew Program for NASA. Later this month, Boeing is set to launch its astronaut spacecraft called the CST-100 Starliner to the ISS, completing the final test before being certified to fly crew.