Jumping worms that trash ecosystems could be wriggling through your garden
The US Forest Service is warning gardeners about Asian jumping worms that can strip nutrients from the top layer of soil, severely damaging the roots of plants
The thought of worms violently thrashing around, jumping a foot in the air when disturbed and being able to devour part of the forest ecosystem might sound like the plot of the latest blockbuster movie. Turns out, they're real.
Even the nicknames for Asian jumping worms give you the heebie-jeebies: Jersey wriggles, wood eel, crazy snake worms. The reality is that these worms can strip nutrients out of the top layer of soil, severely damaging the roots of plants. Even the U.S. Forest Service is warning gardeners about these damaging critters.
THESE HOMEMADE GARDEN TRICKS CAN HELP KEEP CRITTERS OUT, SOIL MOISTURE IN CHECK
There are more than 7,000 species of worms on the planet, and at least three relatively new species of these nonnative, invasive worms have begun to rapidly spread across the U.S. They can live anywhere from urban parks and suburban backyards to rural forests.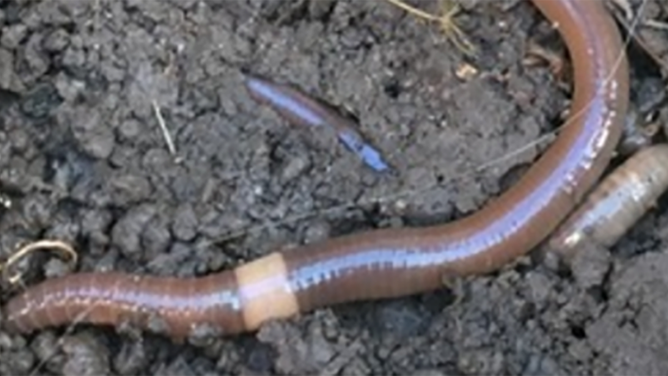 All their trouncing requires energy which causes these voracious worms to eat -- a lot.
"Soil is the foundation of life – and Asian jumping worms change it," said Mac Callaham, a Forest Service researcher who specializes in soils. "In fact, earthworms can have such huge impacts that they're able to actually re-engineer the ecosystems around them."
TIPS TO KEEP PLANTS ALIVE DURING COLD SPRING WEATHER
The first records of Asian jumping earthworms date back to the late 19th century, according to researchers at Cornell University. Relatively little is known about them compared to commonly-known European nightcrawlers that are now being displaced by the destructive worms.
An adult jumping worm can measure up to 8 inches, grow twice as fast, reproduce more quickly and can infest soils at higher densities compared to their counterpart.
As an annual species, adults die after the first freeze. But their egg sacks, called cocoons, are about the size of a mustard seed. They can survive the winter and hatch when temperatures reach 50 degrees for a consistent period. Surprisingly, one worm can produce many cocoons without mating.
Their very small dirt-colored cocoons are nearly impossible to spot with your own eyes. Since jumping worms live in the soil, the Forest Service said they can be spread in mulch, potting mixes or potted plants.
THE BEST TIPS FOR GROWING PLANTS
According to researchers, one telltale sign of an infestation is a very uniform, granular soil created from worm castings. The texture of this soil is often compared to coffee grounds.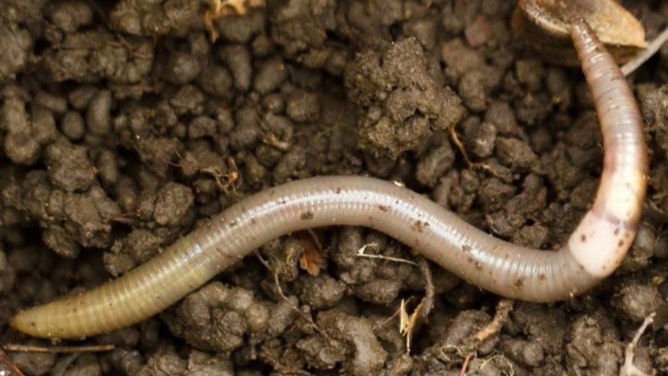 "If these worms didn't spread into forests and natural areas, they wouldn't be such a problem," Callaham said. "But unfortunately, they simply won't stay where you put them. The best way to prevent future invasions is to avoid moving earthworms around."
There are currently no viable control methods, but research is continuing. 
Easy ways to prevent spread
Here are some tips to prevent the spread of these invasive worms.
Do not buy or use jumping worms for bait, vermicomposting or gardening.
When purchasing bulk mulch or compost, use a reputable producer that has heat-treated it to destroy the cocoons, or purchase bagged mulch.
Check your property for jumping earthworms using a mustard pour (it won't harm your plants). Mix a gallon of water with 1/3 cup of ground yellow mustard seed and pour slowly into the soil. This will drive any worms to the surface where you can easily remove them.
If you have a small population of jumping worms, handpick and destroy them by bagging them and throwing them in the trash, or place them in a bag and leave out in the sun for at least 10 minutes; then throw the bag away.
It is also important to report any jumping worms to your local extension office and avoid moving plants or soil from your yard.
CLICK HERE TO GET THE FOX WEATHER UPDATE PODCAST
Be sure to download the FOX Weather app for the latest forecast and weather alerts for your exact location, plus the 24/7 livestream of America's Weather Team.