America's largest residential food waste recycling program about to launch in California
Starting Jan. 1, 2022, organic waste recycling and surplus food recovery will be mandated statewide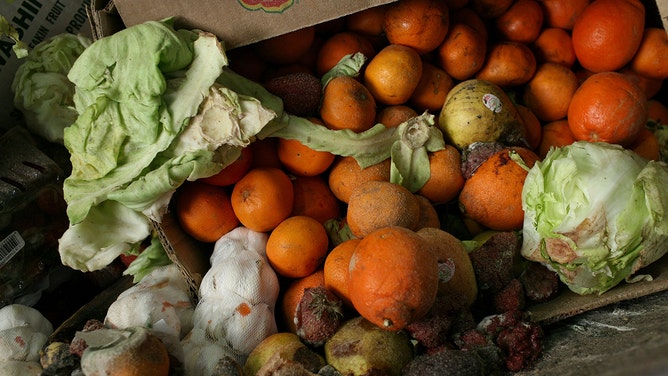 SACRAMENTO, Calif. -- Organic waste makes up more than half of what Californians throw in landfills each year and is a top source of climate emissions.
The state is now implementing the most extensive mandatory residential food waste recycling program in the United States to eliminate this. It will also be one of the most significant changes to California's recycling program since it started in the 1980s.
Starting Jan. 1, 2022, organic waste recycling and surplus food recovery will be mandated statewide.
This comes after Californians asked the state to take urgent action to fight the worsening climate crisis. The Golden State has recorded its second extreme drought in ten years and nine of the ten most devastating wildfires in the last 11 years. 
"Food, yard and other organic waste rotting in landfills is a top source of climate super pollutants in the state," said Lance Klug, public information officer with the California Department of Resources Recycling and Recovery – known as CalRecycle.
With the implementation of SB 1383, Klug said Californians can fight climate change, feed those in need, conserve water used to grow food and move the state towards a future with less pollution and more green jobs.
In 2018, California threw about 39 million tons of waste into landfills. Klug said that is equal to shipping containers, stacked 32 containers high, running down all the Interstate 5 in California. 
In addition, more than 5.5 million tons of food waste is thrown in California landfills each year, including 1.8 billion meals worth of still-fresh, surplus food. 
Organic waste like food and yard scraps, non-treated wood and paper rotting in landfills is a top source of climate-changing pollutants, Klug said.
Methane: The climate super pollutant
Twenty percent of California's methane pollution comes from food, yard and other organic waste rotting in landfills.
According to Klug, methane is a climate super pollutant that is 84 times more effective at trapping heat in the atmosphere than carbon dioxide over a 20-year time frame. 
"Because methane breaks down faster in the atmosphere, reducing this climate super pollutant is the fastest way we can impact the climate crisis," Klug said.
California will lower a top source of methane contributing to climate change by rescuing surplus food for those in need and recycling food and yard waste into valuable resources like compost, fuel, and other products.
According to the state, the total organic waste averages 1,100 pounds thrown away per person a year.
"Recycling a family of four's share of this organic waste would save almost as many climate emissions as taking one of their family cars off the road," Klug said.
To reduce landfill methane emissions, SB 1383 calls for a 75% statewide reduction in organic waste disposal by 2025. It also actions to send 20% of still-fresh food currently thrown away statewide to Californians in need instead.
How will the state mandate this?
Starting Jan. 1, 2022, cities and counties must collect organic waste, like food scraps, yard trimmings, cardboard and paper and turn them into compost, biofuel or energy.
Klug said almost half of California's communities have or expect to have programs in place on Jan. 1.
"CalRecycle is working closely with local governments to help implement food and yard waste recycling," Klug said. "The state just approved $195 million for new programs and infrastructure that locals can apply for."
However, the state has met some challenges along the way, including the infrastructure to recycle food and yard waste and handle contamination.
Another issue was identifying how to use the compost, biofuel and clean energy to meet local needs, Klug said.
While official reporting data from 2020 is not available yet, the state estimates that out of 394 jurisdictions with curbside green waste collection programs for residents, about 151 jurisdictions currently have food and yard waste collection programs.
"A total of almost 200 expect to have these programs in place by Jan.1," Klug said. "Another 43 plan to start programs in 2022."
Since the climate law passed in 2016, CalRecycle has worked alongside cities and counties to help shape regulations that offer various pathways to compliance.