Spacewalking American, European astronaut duo conduct space station housekeeping
NASA astronaut Raja Chari and ESA astronaut Matthias Maurer worked outside the ISS for nearly 7 hours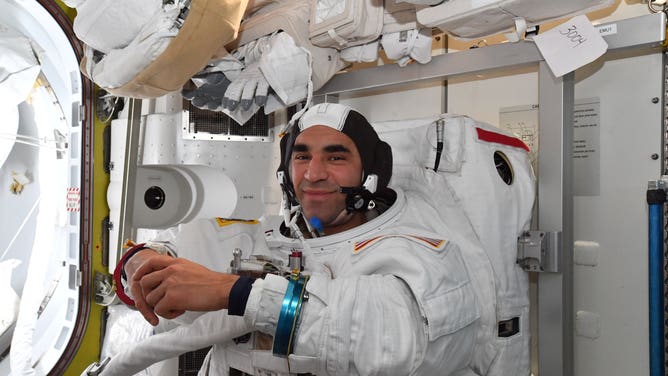 Any home needs maintenance, and that's what two astronauts 200 miles above Earth were doing Wednesday after they stepped outside the International Space Station airlock to conduct a nearly 7-hour spacewalk.
The ISS is an orbiting six-bedroom home and laboratory that spans nearly the length of an American football field. Astronauts have lived and worked on the space station for more than 20 years.
With the help of their fellow astronauts, NASA astronaut Raja Chari and European Space Agency (ESA) astronaut Matthias Maurer donned their Extravehicular Mobility Units, also known as spacesuits and began their spacewalk before 9 a.m. Eastern.
NASA: RELATIONSHIP WITH RUSSIAN SPACE PROGRAM UNCHANGED SINCE UKRAINE INVASION
The spacewalkers hit a minor hiccup early on Wednesday when Maurer's helmet camera came loose. After that was secured, the astronauts continued their work outside the space station.
The duo installed hoses on a radiator beam value module that routes ammonia through the ISS's heat-rejecting radiators that help keep the station's systems at the right temperature. The astronauts also installed a power and data cable on the station's science platform called the Bartolomeo. After that, they replaced a camera on the ISS truss and conducted upgrades to station hardware.
SPACEWALKING ASTRONAUTS TAKE ANOTHER STEP TOWARD UPGRADING ISS POWER SYSTEM
Chari and Maurer completed their to-do list in 6 hours and 54 minutes outside the station. While in the vacuum of space, the astronauts got some help from the Canadaarm2 robotic arm, operated by NASA astronauts Kayla Barron and Tom Marshburn from inside the ISS.
This was the second spacewalk for Chari in about a week. Last Tuesday, Chari and Barron installed modifications kits to support power upgrades on the station.