Why it's unusual a cosmonaut had to actually pilot his spacecraft to dock at the ISS
Roscosmos cosmonaut Anton Shkaplerov was the only professional onboard Soyuz spacecraft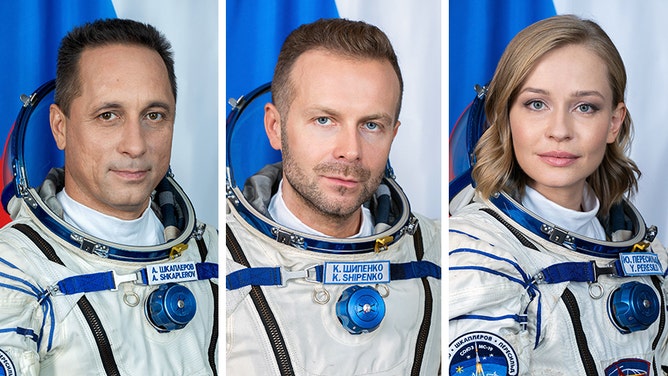 A Russian cosmonaut manually parked his spacecraft at the International Space Station on Tuesday after a communication issue during docking, according to NASA.
Usually, the Soyuz spacecraft docks itself autonomously at the orbiting outpost 200 miles above Earth. Still, after a successful launch from Kazakhstan, Cosmonaut Anton Shkaplerov was forced to take control of the spacecraft before docking because of a communication issue with the Russian docking program.
"Do what you've trained for. You'll be fine," mission control said to the cosmonaut.
"Well, God be with us," Shkaplerov told ground control. "Good luck to us."
Also unusual about this spaceflight was that Shkaplerov was the only professional onboard the spacecraft because the other two passengers were a Russian film crew. Thanks to Shkaplerov's training, actress Yulia Peresild and producer Klim Shipenko arrived at the space station for their two-week stay. The mishap only delayed their arrival by about 10 minutes, according to NASA.
NASA confirmed in a tweet Shkaplerov manually guided the Soyuz ship in for docking at the station's Rassvet module at 8:22 a.m. ET. The hatch between the spacecraft and the ISS opened about one hour later. 
The cosmonaut and Russian film crew were welcomed by European Astronaut Thomas Pesquet, NASA astronauts Mark Vande Hei, Shane Kimbrough and Megan McArthur, Aki Hoshide of the Japan Aerospace Exploration Agency, and Roscosmos cosmonauts Oleg Novitskiy and Pyotr Dubrov. 
For nine years after the space shuttle program ended, the only way astronauts could launch to the space station was via the Russian spacecraft, but last year private company SpaceX returned astronaut launches to U.S. soil.
NASA buys rides for its astronauts from SpaceX's Crew Dragon capsule under the agency's Commercial Crew Program. Elon Musk's company has now successfully delivered three crews to the ISS with plans for a third at the end of October. It also recently sent an all-civilian team to orbit the Earth on a three-day journey as part of a private spaceflight paid for by American businessman Jared Isaacman.
Dragon also docks manually at the ISS, but SpaceX trains astronauts to fly the ship in an emergency. 
NASA's second commercial ride to space, Boeing's CST-100 Starliner spacecraft, still must complete an orbital test flight to the ISS before it's given the OK to fly humans. Boeing was set to repeat that test earlier this year, but a mechanical issue has delayed the mission indefinitely.
Tuesday's launch and docking will make interesting footage for Pereslid and Shipenko's movie. The film crew will continue documenting throughout their space station stay before returning to Earth on Oct. 17.