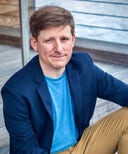 Derek Thomas
Derek Thomas is an award-winning video editor, journalist, and FOX Weather digital producer based in Maryland.
A native of Virginia, he graduated from Syracuse University, which means he has seen enough snow for a lifetime. In addition to FOX Weather, he has produced and edited videos for National Geographic, Meta, Marriott International, and various other small businesses and non-profits. 
In his free time Derek enjoys making films, watching sports, playing golf, ranking Death Cab for Cutie albums, and spending quality time with his wife and two children.